3 hours of horse riding tour from Zubra village to Lviv city
If you are into horseback riding in Lviv, our fascinating journey from Zubra to Lviv's forest is a good choice. This adventure is available both for beginners and experienced riders.
We'll get acquainted and start with the instructions about how to do slow and fast riding and how to stop and turn the horse to the right and left.
The first 20min of horse riding is slow, so you'll concentrate on your feelings. The instructor provides you with recommendations. We combine allures - slow and fast riding during the trip, so canter will be included in a little bit of time.
Our route consists of the village path, spacious field, thick forest and partly Lviv city. There's a break for horses included in our program to eat green grass, so they will be always motivated to go far from home with riders.
As our horse riding club specializes in long tours all saddles are made for maximum comfort to people and horses.
We would love to help you to plan your dream riding tour near Lviv city.
*The originality of the text is completely preserved by the author of the tour (tour operator)
*The tour is conducted in Ukrainian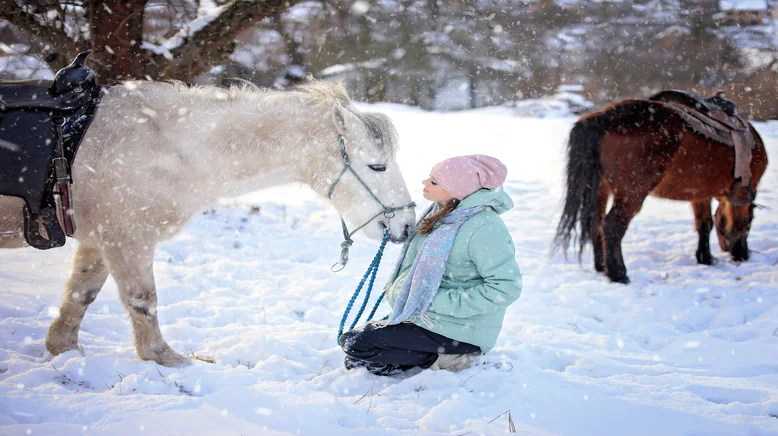 1
You can book a short horse riding near the stable or the long one around Lviv city
2
There're also professional photo sessions for our visitors
3
Рrovide every new rider with the whole instructions to feel comfortable on horseback
4
You'll have time to build up your horse riding skills
5
You'll have time to establish a relationship with your horse
1
Architectural monuments of Lviv
Architectural monuments of the Austro-Hungarian Empire - townhouses, buildings of historical significance and estates of famous people. It was during this period that Lviv developed, acquiring the features of an aristocratic European city. This was observed in everything, especially in the exteriors of the houses and their decoration. Then the city became similar to the prominent cultural centers of old Europe: Vienna and Prague.
Market Square, surrounded by buildings that are a UNESCO World Heritage Site. Here is the City Council and the Town Hall, which can be reached by anyone for a nominal fee (ticket costs 30 UAH). From the Town Hall, the whole city is in the palm of your hand.
The Opera House is the most beautiful theater building in Western Ukraine. The exquisite skill of the architects is sure to find a response in your heart.
4
Churches and cathedrals
Many churches and cathedrals located in the central part. There are amazing religious buildings that were built in different historical periods, including the Church of the Assumption, the Church and Monastery of the Bernardines, the Church of Peter and Paul, the Church of Andrew and others.
Excursion service
Professional guide.
Available languages Ukrainian, Russian, English.
*From each purchased tour, we transfer 10% to the Ukrainian Refugee Support Fund. All profits from press tours are transferred to the reconstruction of Ukraine.
RULES FOR STAYING IN HOTELS
The simultaneous stay of visitors in the hotel lobby not more than one person per 10 square meters of serviceable area is allowed.
Persons can visit hotels and stay there (outside hotel room) only if they wear respirator or face mask (including homemade mask), so that the nose and mouth are covered.
Hotel guests are obliged to keep the 1.5 meters distance.
Online check-in making in advance is recommended to avoid queues at check-in to hotel.
Meals in hotels are provided through meals delivery service to rooms upon prior order or at hotel restaurants situated inside or in open areas, provided the distance of at least 1.5 meters between seats at adjacent tables.
Not more than 4 clients are allowed to stay at the table (excluding children under 14 years old). Unless these tables are separated by a special partition;
Self-serve is not allowed.