ETHNO NEW YEAR IN THE CARPATHIANS
Celebrate the New Year's Eve in the ancient traditions of Ukraine and in the company of people close to you!
Tour date: December 31
Tour program:
Lviv (departure at 12:00) - Truskavets (interesting city walk) - Boryslav (cable car, admiring the snowy landscapes, delicious lunch) - Drohobych (tasting of warming honey and a city tour) - Pidhorodtsi (New Year's Eve parties and a festive dinner) - Lviv (return at 06:00).
New Year's program:
- Boyko New Year's rituals
- master classes in folk singing (carols)
- master classes in traditional Boyko dances
- performance of a group of three musicians
- program in the Museum of Boyko culture (weaving, spinning, churning, modernization of folk clothes)
- feast in three events:)
New Year's dinner menu:
- Mushroom soup and Boyko plucking
- Borsch and sycamore pie
- Stuffed cabbage (with meat and rice)
- Tartlets with cheese filling, liver pate and mushrooms
- Canapes with bacon and sauerkraut
- Baked potatoes with bacon, garlic and kruchenyk (chicken fillet with vegetables, mozzarella in cream)
- Boyko pastries in dumplings (honey cake, cheese cake, poppy seed cake, waffle with condensed milk,
baked nuts and mushrooms, sweet hedgehogs)
- mulled wine.
*The tour is conducted in Ukrainian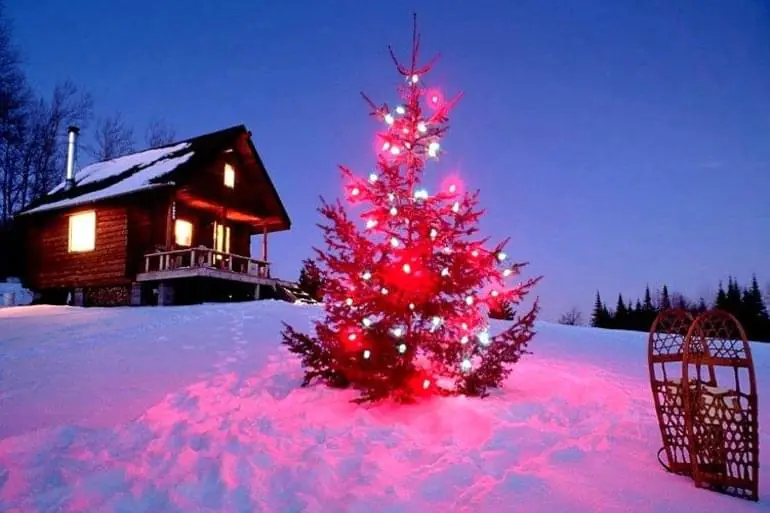 The price does not include and is paid additionally: tasting of liqueurs, entrance tickets, lunch. The cost of entrance tickets: Cable car to Mount Bukovytsia: general, student, pupil - 100 UAH; pensioners, ATO participants, children under 12 - 80 UAH; children under 6 - free of charge; Tasting of medivka and medak: general, pensioner, student - 150 UAH.
Meals: lunch is served in the catering establishments of Boryslav. The approximate cost is 150 UAH.
1
Try the mineral waters of Truskavets
2
Enjoy a comfortable New Year's trip and a festive atmosphere
3
To see the real winter Carpathians, enchanting with their beauty
4
Enjoy the New Year's program with the traditional folk rites of Boyki - Carpathian residents
5
Try incredibly delicious local cuisine
Truskavets is a city-park, a unique and oldest balneologist resort in Europe, located in a picturesque pre-Carpathian valley. The town is world-famous for its healing mineral water "Naftusia", which can be tasted in the central mineral water pump. Guests of the city are amazed by the wonderful wooden villas built in the Zakopane style (XIX-XX centuries). The Carpathian pearl will surprise you with its beauty and history, which has surrounded the city since ancient times.
Resort "Bukovitsa". In order to better de-ice the Carpathians and Pidhyrya, we invite you to climb the Bukovytsia mountain (564 m) with a modern chair lift. In just six minutes on a four-seater lift, you can see the true beauty of the Carpathian Mountains, beautiful panoramas of the Oriv Beskids, Truskavets, Boryslav, Drohobych and, in good weather, even Lviv. There is an area with a food court on the observation deck, where you can have a snack and drink coffee or Carpathian tea.
This city has its own unique aura and charm and attracts numerous architectural monuments. Drohobych is one of the most beautiful cities in Western Ukraine, the capital of salt production, Yury Kotermak-Drohobych and Bruno Schultz are from it. You should definitely visit the ensemble of Rynok square with the town hall and the two oldest buildings of the city: the Gothic church of St. Bartholomew (1392) and the bell tower (XIII century), which was rebuilt from an ancient Russian defense tower. Drohobych is full of salt! After all, one of the oldest factories in Europe is located here, which is still in operation today - the Drohobytsk salt factory (XIII-XXI centuries), where you can see how salt is boiled, buy it and souvenirs from it. Only in Drohobych you can taste salty cake and delicious bread baked on salted oil. And what amazing legends the City Hall hides! Oh, it's breathtaking!
4
Drohobych "Ukrainian meads"
And in Drohobych you can taste natural alcoholic drinks made from honey. The company "Ukrainian Medovary" operates here - it is the only certified company in Ukraine that produces honey drinks. Created in 2017 thanks to the efforts of a Drohobytsky beekeeper, for whom honey drinks are a hobby and a great inspiration, and Volyn beekeepers, who have 10 years of experience in the production of honey drinks of various types and have numerous awards and medals both at all-Ukrainian and international competitions . Even in ancient times, honey drinks were a separate elite group of intoxicating drinks, the consumption of which did not harm, but, on the contrary, contributed to people's health. Ukraine, as one of the largest producers of honey in the world, has always been famous for its excellent honey hop drinks. At the tasting you will be able to taste "Medivka" (purely fermented product, which rightfully belongs to the oldest intoxicating drinks in the world) and "Medak" (a balm based on honey, fruits and herbal tinctures).
5
Podhorodtsi. Museum complex "In the courtyard"
Well, our last location of this amazing night is the museum complex "In the courtyard". Here on the territory of the former estate of the scientist naturalist Kostyantyn Stanislav Petrusky, who in 1833-1848 founded the first zoo in Ukraine - the museum complex "In the courtyard" is compactly located, where the spiritual culture of the Ukrainian mountaineers - the Boiks - is actively popularized. Here, values are nurtured, material heritage is protected, and the habits and traditions of Boykivshchyna are modernized. The museum hosts many educational events, workshops, lectures and cultural events. But today the doors of the museum opened to open for you the world of traditional Ukrainian vespers: three pieces of music, an educational program, ancient traditions, thematic master classes, carols and delicious cuisine, and we promise you incredible experiences during the New Year's meeting in the Carpathians!
Transfer along the route
Professional guide
Travel insurance
Festive dinner
*From each purchased tour, we transfer 10% to the Ukrainian Refugee Support Fund. All profits from press tours are transferred to the reconstruction of Ukraine.
RULES FOR STAYING IN HOTELS
The simultaneous stay of visitors in the hotel lobby not more than one person per 10 square meters of serviceable area is allowed.
Persons can visit hotels and stay there (outside hotel room) only if they wear respirator or face mask (including homemade mask), so that the nose and mouth are covered.
Hotel guests are obliged to keep the 1.5 meters distance.
Online check-in making in advance is recommended to avoid queues at check-in to hotel.
Meals in hotels are provided through meals delivery service to rooms upon prior order or at hotel restaurants situated inside or in open areas, provided the distance of at least 1.5 meters between seats at adjacent tables.
Not more than 4 clients are allowed to stay at the table (excluding children under 14 years old). Unless these tables are separated by a special partition;
Self-serve is not allowed.