Kamianets-Podilskyi cruise + Bakota
Kamianets-Podilskyi cruise + Bakota
Khotyn, Bakota, Kamianets-Podilskyi, and a cruise along the Dniester.
Tour program:
Day 1
- Departure from Lviv (08:00) / from Ternopil (10:30)
Khotyn (tour of the fortress)
The impregnable Khotyn Fortress (13th - 20th centuries), a favorite of tourists and filmmakers, still impresses with its high 40-meter walls, 65-meter well and magnificent panorama of the Dniester. The fortress played an important role in the lives of many history makers, and you will remember it if you visit it at least once.
Bakota (panoramic view, rock monastery)
An extremely beautiful place on the banks of the Dniester River, located on the site of the village of Bakota, the former capital of Ponizia, which was flooded in 1981 during the construction of the Novodnistrovska hydroelectric power station. Nowadays, the town is home to St. Michael's Monastery and offers a magnificent panorama of the Podil Tovtry. According to scientists, the local climate is similar to that of Yalta.
- Kamianets-Podilskyi (dinner, check-in at the hotel at 21:30).
Day 2
- Kamianets-Podilskyi (breakfast at 07:30, city and fortress tour, lunch)
A fantastic city that is one of the most beautiful cities in the world thanks to the picturesque Smotrych River canyon and a huge concentration of architectural monuments. Kamianets is recognized as one of the wonders of Ukraine and is the third most monumented city in Ukraine.
You will find the old fortress (XIII-XVIII centuries), the Cathedral Church of Peter and Paul (XVI century), next to which is a minaret with a sculpture of the Mother of God, the oldest town hall in Ukraine (XV century), a walk through the streets of the old town, where you can enjoy the beauty harmoniously created by nature and man.
A boat cruise along the Dniester canyon;
We offer you a unique opportunity to take a boat cruise along the most picturesque corners of the Dniester River. The path will run through the Podolsk Tovtry National Reserve, and you will see fabulous rocks, unusual nature, and the blue surface of the Dniester water. This trip will be remembered forever and you will want to come back here again and again.
Ternopil (return at 19:00) / Lviv (return at 22:10)
Accommodation:
Hotel in Kamianets-Podilskyi
Comfortable 2-bed rooms with in-room amenities.
Nutrition:
Day 1
Breakfast takes place during the bus stop in the cafe "Slava" in Ozerna village (everyone orders privately, cheap and tasty). Lunch takes place in Khotyn. Menu: borsch, potatoes with chicken drumstick, salad, bread, compote. The cost is 130 UAH per person.
Dinner will take place in a cafe in Kamianets-Podilskyi. Menu: vegetable salad (cucumber, tomato, cabbage), zupa with meatballs, rice, French meat, bread, and soup. Price: 150 UAH.
Day 2
Breakfast will take place in Kamianets-Podilskyi at the Esher restaurant. Menu: scrambled eggs, ham, cucumber, Ukrainian cheese, butter, jam, bread rolls, croissant with condensed milk, tea/coffee. The cost of breakfast is UAH 150.
Lunch takes place in a cafe in Kamianets-Podilskyi. Menu: vegetable salad, green borscht, mashed potatoes with chicken kebab, bread, uzvar. Price: 150 UAH.
Dinner takes place during the bus stop at the Slava cafe in Ozerna village (everyone orders privately, it's cheap and tasty).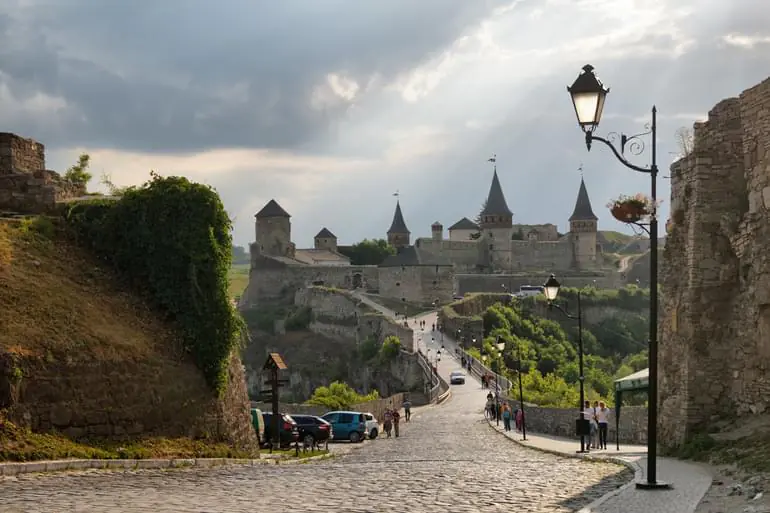 The tour price includes: travel by a comfortable bus; guide support; excursion services at tourist sites; travel insurance; accommodation.
The price does not include and is paid additionally: entrance tickets to tourist attractions; meals.
Entrance tickets: Khotyn Fortress: general, pensioner - 80 UAH, students and pupils - 40 UAH. Podilski Tovtry National Park (Bakota): adults: 40 UAH/person, students: 35 UAH/person; children 6-12 years old: 20 UAH/person; children under 6 years old: free. Kamianets Fortress: general admission: 100 UAH, pensioners, students and pupils: 50 UAH. Boat cruise along the Dniester canyon: general: 200 UAH, children under 6: 140 UAH.
1
Kamianets-Podilskyi
The entire fortress city is located on the cliffs of the Smotrych Canyon
2
Khotin
The impregnable Khotyn fortress defends the steep slopes of the Dniester
3
Dniester cruise
One of the largest rivers in Europe creates a canyon up to 120 meters deep
4
Bakota
The ancient city, flooded by the Dniester waters, hides many secrets
5
Far away Podillia
An unexpectedly picturesque corner of Ukraine, where ancient cities and fortresses defend incredible natural beauty
Transfer along the route
Professional guide
Travel insurance
Accommodation
*From each purchased tour, we transfer 10% to the Ukrainian Refugee Support Fund. All profits from press tours are transferred to the reconstruction of Ukraine.
RULES FOR STAYING IN HOTELS
The simultaneous stay of visitors in the hotel lobby not more than one person per 10 square meters of serviceable area is allowed.
Persons can visit hotels and stay there (outside hotel room) only if they wear respirator or face mask (including homemade mask), so that the nose and mouth are covered.
Hotel guests are obliged to keep the 1.5 meters distance.
Online check-in making in advance is recommended to avoid queues at check-in to hotel.
Meals in hotels are provided through meals delivery service to rooms upon prior order or at hotel restaurants situated inside or in open areas, provided the distance of at least 1.5 meters between seats at adjacent tables.
Not more than 4 clients are allowed to stay at the table (excluding children under 14 years old). Unless these tables are separated by a special partition;
Self-serve is not allowed.