Aqua tour "Swim in Transcarpathia"
All the healing waters of Transcarpathia are waiting for you!
During two days you will be improving your health in thermal waters in Berehove and Kosyno, "boiling" in vats and diving into a mountain river in Lumshory, getting acquainted with the local cuisine, culture and nature of Transcarpathia.
The European-level health and recreation complex Kosyno was opened in December 2012. On an area of 8 hectares amidst a 200-year-old oak grove, there are two freshwater pools (one with an aqua bar) and three thermal pools with mineral water.
The unique mineral waters of Berehove district are also known far beyond Ukraine, and have analogues only in New Zealand.
A culinary journey through the flavors of Transcarpathia awaits you. You will taste 15 delicious dishes, as well as uzvar and the signature plum sauce "Od grandpa Mishka", and taste real Transcarpathian wines from the Knights of the Wine Order of St. Wenceslas.
We invite you to a relaxation and gastronomic tour to the Carpathians, where you will relax both body and soul.
Tour dates: September 10, 24, October 8, 22, November 5
- Lviv (departure at 09:00) - Mukachevo (lunch of Transcarpathian cuisine);
- Kosino (swimming in the thermal pool);
- Ben (wine tasting at the Paraska brothers
- the best winemakers of Transcarpathia)
- Berehove district (dinner and overnight stay in rural tourism estates, check-in at 21:30, dinner).
Day 2
- Breakfast, departure at 08:00
- Berehove (2 hours of swimming in the new thermal pool "Lark")
- Perechyn (lunch-tasting of Transcarpathian food)
- Lumshory (cooking in vats and bathing in a mountain river);
- Lviv (returning at approximately 23:30).
*The originality of the text is fully preserved from the author of the tour (tour operator)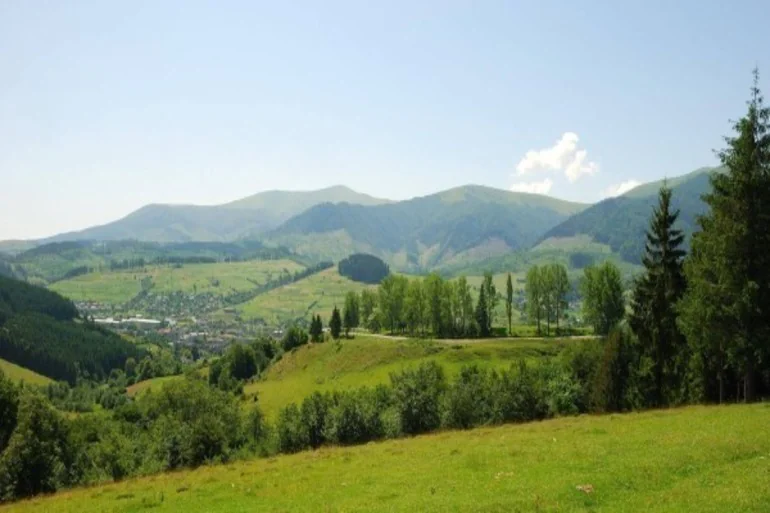 Not included in the price*: Entrance tickets to tourist facilities: Kosyno thermal pool: UAH 450, locker rental - UAH 50; thermal pool "Zhayvoronok" in Berehove - UAH 200, locker rental - UAH 20... bathing in vats with mineral water in the village of Lumshory 140,
Meals: breakfast from 55 UAH. lunch from 180 UAH. dinner from 90 UAH Wine tasting: 60 UAH/person, excursion without wine consumption - 30 UAH/person; *Prices are subject to change.
1
Take a bath in the largest fountain in Ukraine - a jacuzzi with "coffee", "wine", "beer" and "palenka"
2
Steam in vats over low heat
3
You will taste wines from the world-famous winemakers Paraskov brothers, knights of the Wine Order of St. Wenceslas
4
You will taste 15 exquisite dishes of Transcarpathian cuisine
5
Take a dip in a mountain river in Lumshory
The European level health and recreation complex "Kosyno" was opened in December 2012. On an area of 8 hectares in the middle of a 200-year-old oak grove, there are two fresh pools (one of them with an aqua bar) and three thermal pools with mineral water. Water is supplied to them from a depth of 1190 m and has a temperature of +41. The largest thermal fountain in Ukraine "Golden Faucet of Health" operates on the territory of the complex.
Bene is one of the villages that has combined all the best that Transcarpathia can be characterized by. It is famous for its wines and ancient wine cellars, which maintain a temperature of 12-13 degrees in any weather. The world-famous Paraska brothers, knights of the Wine Order of St. Wenceslas, will open their wine cellars for us. A truly delicious wine awaits you, which intoxicates the body and soothes the soul.
Berehove is a town in the Zakarpattia region, founded in 1247. Ukrainian and Hungarian traditions are combined here because for a long time Berehove belonged to neighbouring Hungary. The most famous natural attraction of Berehove is a thermal spring with unique mineral composition. Its depth is about 1,000 meters, while the temperature in the pool remains constant - 36 degrees at any time of the year.
We invite you on a culinary journey through the flavours of Transcarpathia. We offer you a unique opportunity to taste the rich palette of Transcarpathian home cooking! You will taste 15 delicious dishes, as well as uzvar and the speciality "Od dida Mishka" plum wine. Experience the tastes and aromas of the national cuisines of the people who live here.
At the foot of the Polony ridge of the Ukrainian Carpathians is the balneological resort of Lumshory, which has been known since the 17th century. The nature of heavenly beauty and elements of hell are closely intertwined there. There are huge metal vats in which you will bathe over a slow fire in mineral hydrogen sulfide water. For greater pleasure, you can alternate bathing in a vat and bathing in cold water. Such rest, in addition to unforgettable impressions, leads to the recovery of the musculoskeletal system and rejuvenates the body for ten years.
Transfer along the route
Professional guide
The tour is conducted in the Ukrainian language. Other languages on request.
Travel insurance
Accommodation
*From each purchased tour, we transfer 10% to the Ukrainian Refugee Support Fund. All profits from press tours are transferred to the reconstruction of Ukraine.
RULES FOR STAYING IN HOTELS
The simultaneous stay of visitors in the hotel lobby not more than one person per 10 square meters of serviceable area is allowed.
Persons can visit hotels and stay there (outside hotel room) only if they wear respirator or face mask (including homemade mask), so that the nose and mouth are covered.
Hotel guests are obliged to keep the 1.5 meters distance.
Online check-in making in advance is recommended to avoid queues at check-in to hotel.
Meals in hotels are provided through meals delivery service to rooms upon prior order or at hotel restaurants situated inside or in open areas, provided the distance of at least 1.5 meters between seats at adjacent tables.
Not more than 4 clients are allowed to stay at the table (excluding children under 14 years old). Unless these tables are separated by a special partition;
Self-serve is not allowed.