A bus tour is a godsend for those who want to see the city without wasting time. On our comfortable bus, we will learn what the city of Leva is like in just three hours and without any fatigue. The focus of attention is on the most prominent sights that cannot be missed while in Lviv - St. George's Cathedral, Lychakiv Cemetery, Lviv Polytechnic and the former parliament of Galicia, Slyakhet Casino and the highest mountain in the city - the High Castle. We will get to know the Stryi Park district and take a look at prestigious Lviv neighborhoods.
We leave at 14:00 - we give ourselves time to enjoy a leisurely breakfast and Lviv coffee! After the excursion, we will take you to the city center, from where we offer to continue your visit to Lviv in the evening promenade.
*The originality of the text is completely preserved by the author of the tour (tour operator)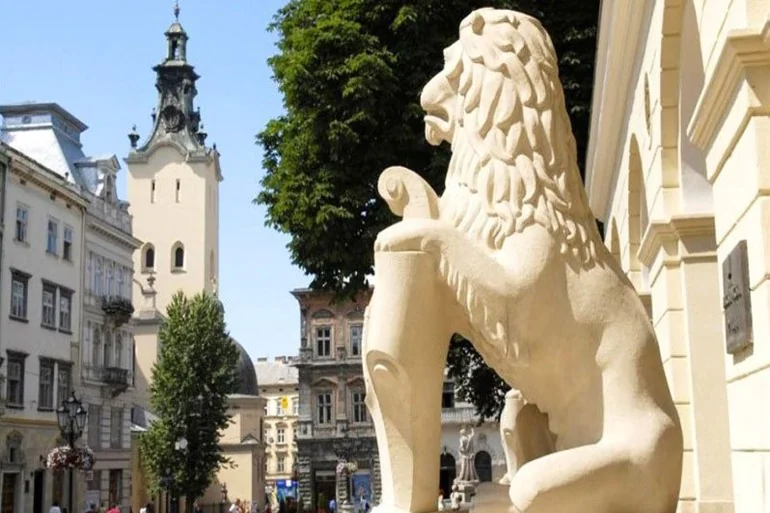 5 Reasons to choose a tour
1
Comprehensiveness
See the main sights in 3 hours
2
Convenience
Traveling in a comfortable bus will save you from fatigue
3
Panorama
Visit the highest mountain in the city, which offers an incredible view
4
A complete impression of the city
Learn not only about the history of Lviv, but also what the city lives today outside the center
5
Individual approach
Possibility to get off the bus at bus stops if desired
1
Greek-Catholic metropolis of St. George
4
Former Parliament of Galicia (Ivan Franko University)
8
Prestigious districts of Lviv
Transfer by bus
Accompaniment of the Gude
Travel insurance
*From each purchased tour, we transfer 10% to the Ukrainian Refugee Support Fund. All profits from press tours are transferred to the reconstruction of Ukraine.
RULES FOR STAYING IN HOTELS
The simultaneous stay of visitors in the hotel lobby not more than one person per 10 square meters of serviceable area is allowed.
Persons can visit hotels and stay there (outside hotel room) only if they wear respirator or face mask (including homemade mask), so that the nose and mouth are covered.
Hotel guests are obliged to keep the 1.5 meters distance.
Online check-in making in advance is recommended to avoid queues at check-in to hotel.
Meals in hotels are provided through meals delivery service to rooms upon prior order or at hotel restaurants situated inside or in open areas, provided the distance of at least 1.5 meters between seats at adjacent tables.
Not more than 4 clients are allowed to stay at the table (excluding children under 14 years old). Unless these tables are separated by a special partition;
Self-serve is not allowed.