Carpathian tram, interactive museum and drinking honey
Carpathian Tram and Dovbush Rocks
Rocks in Bubnyshche, Goshiv Monastery, Carpathian narrow-gauge railway, Mizun waterfalls, picturesque mountains
Tour dates: Every Sunday
Tour program:
Departure from Lviv (08:00) - Vyhoda (a trip by Carpathian tram, lunch, an interactive tour of the Vyhoda Narrow Gauge Heritage Center, and tasting of honey and bee products at the Black Bee honey factory) - Lviv (returning by 20:55).
What will we see?
Vyhoda. Vyhoda Narrow Gauge Railway Heritage Center
One of the most modern and interesting interactive museums in Ukraine, where you can touch, pull and try everything. During the tour, you can learn how to determine the age of trees, visit a tree hollow, pet a wolf, wild boar and fox, and climb into the driver's cab of a Carpathian tram.
Product. Black Bee honey factory
We invite you to visit a honey factory where real Carpathian drinking honey is brewed according to ancient Boyko recipes. You will have a sightseeing tour, during which you will learn about the history of honey production and taste cream honey, drinking honey, honey balm, honey liqueur, and Carpathian tea.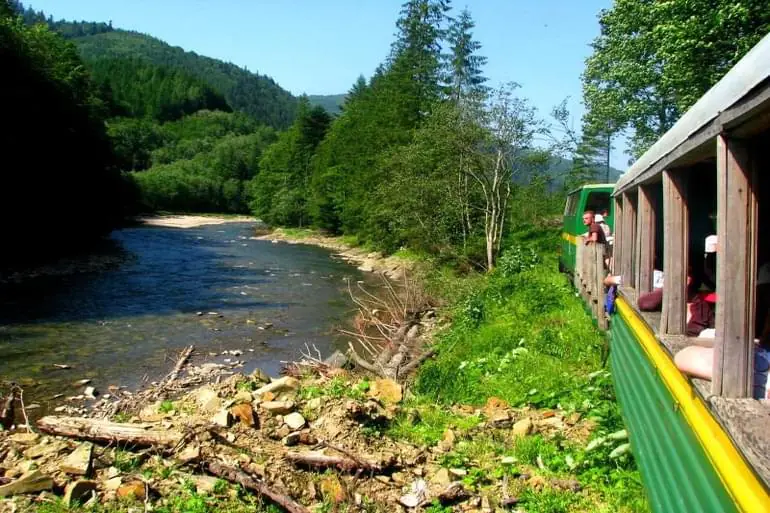 The tour price includes: travel by a comfortable bus; guide support; excursion services at tourist sites; insurance for the duration of the trip.
The price does not include and is paid additionally: entrance tickets to tourist attractions; meals.
Entrance tickets: Carpathian tram: general, pensioner, student - 200 UAH, children (6 to 14 years old) - 100 UAH, ATO participants and children under 6 years old (without extra seat) - free of charge. Transfer to the Dovbush rocks on a pazik in both directions: General, pensioner, student, schoolchildren - 90 UAH, children under 12 - 50 UAH, children under 6 - free of charge. Dovbush Rocks: general, pensioner, student, and schoolchildren - 10 UAH.
Meals: Breakfast: You can have breakfast at home, take a snack with you, or have breakfast while the bus is parked at a catering establishment of your choice. Lunch: Takes place in the cafe "Vigoda" and consists of the following menu: mushroom soup, salad of young cabbage, mashed potatoes with sauce, steaks, tea or broth, bread. Price: 130 UAH per person.
1
The legendary Rocks of Dovbush
Visit magical rocks in the middle of the forest, shrouded in legends
2
On a tram through the mountains
Ride a single-track tram, of which there are not many in the world, through the Ukrainian Carpathians
3
Spring water and clean air
Drink water from crystal clear springs and breathe fresh mountain air
4
Incredible mountain landscapes
Views of incredible beauty await you at every step
5
Goshiv monastery
Visit a unique sacred building with a special atmosphere
Transfer along the route
Professional guide
Travel insurance
*From each purchased tour, we transfer 10% to the Ukrainian Refugee Support Fund. All profits from press tours are transferred to the reconstruction of Ukraine.
RULES FOR STAYING IN HOTELS
The simultaneous stay of visitors in the hotel lobby not more than one person per 10 square meters of serviceable area is allowed.
Persons can visit hotels and stay there (outside hotel room) only if they wear respirator or face mask (including homemade mask), so that the nose and mouth are covered.
Hotel guests are obliged to keep the 1.5 meters distance.
Online check-in making in advance is recommended to avoid queues at check-in to hotel.
Meals in hotels are provided through meals delivery service to rooms upon prior order or at hotel restaurants situated inside or in open areas, provided the distance of at least 1.5 meters between seats at adjacent tables.
Not more than 4 clients are allowed to stay at the table (excluding children under 14 years old). Unless these tables are separated by a special partition;
Self-serve is not allowed.