EXCURSION TO ARPAD BUNKER: INDIVIDUAL TOUR
EXCURSION TO ARPAD BUNKER: INDIVIDUAL TOUR
We welcome you on an exciting journey that will give you health, youth and new, absolutely unforgettable and incomparable impressions; the picturesque landscapes of the Carpathians will cheer you up and inspire you! An excursion to the best resorts of Transcarpathia is a real super-elixir of healing and health, which will certainly reveal to you all the subtleties of taste and therapeutic properties of the region's mineral waters. It will take you to the most interesting past and present of its balneology and famous sanatorium-resort complexes, the analogues of which you will not find anywhere.
Unique and healing mineral waters and thermal springs have made Transcarpathia a real balneological Mecca of Ukraine. And not only because of its rare and unique feature - there are no similar hydro-mineral deposits in the entire country. Interest in balneotourism is growing, first of all, thanks to the huge selection of colorful wellness and spa procedures, amazing natural attractions of the Carpathians, as well as Transcarpathian authentic and unique culture.
You will walk through souvenir towns, see the infrastructure of Transcarpathian resorts, a variety of options for recreation and health, and taste several types of mineral water. And the local beautiful nature and clean mountain air will surely envelop you with a sense of peace, give you strength and health, and give vivid impressions.
In addition, you will visit a mega interesting place in Transcarpathia - the underground military bunker of the famous Arpad Defense Line from the Second World War.
Tour dates: every day
The duration of the tour is 1 day

The price of the tour includes:
Driving in a comfortable car
Accompaniment by a tour guide
Excursion service at tourist sites
The price of the tour does not include and is paid additionally:
Entrance tickets - UAH 50-70/person
Lunch - ory. UAH 100/person
*The tour is conducted in Ukrainian, Russian or English at your choice.

Order branded Visit Ukraine merch for stylish travels in Ukraine (worldwide delivery)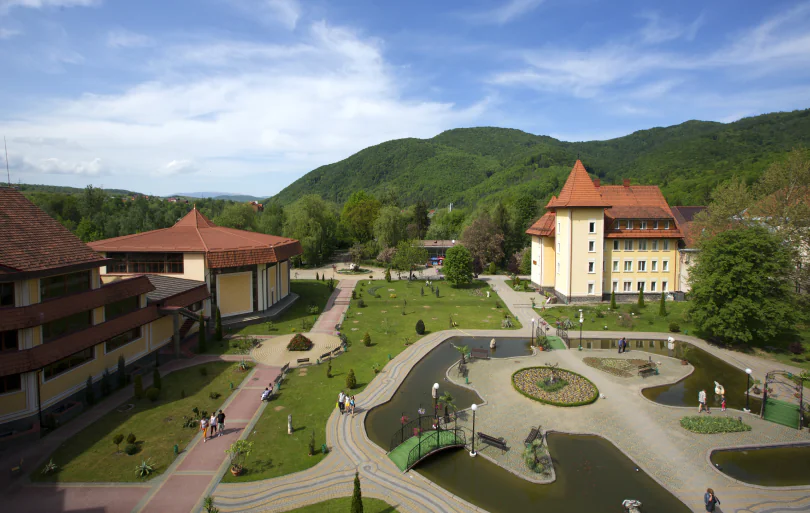 Tour program:
- Departure from Uzhhorod. – Moving to the Kvitka poloniny sanatorium (Solochyn village, Svalyavsky district): A walk through a mini-arboretum with unique trees, bushes, an artificial lake, a mountain river. Horse riding, hippotherapy (treatment by horseback riding). Tasting of three types of Transcarpathian mineral water: "Luzhanska-4", "Luzhanska-7", "Polyana Kvasova". – Moving to the Sonyachne Zakarpattia sanatorium (Polyana village, Svalyavsky district). Excursion on the territory of the resort. Tasting of mineral water of the Borjomi type from the Novo-Polyansky deposit. – Lunch in the ethnic restaurant of the village. Bow down We recommend trying: trout and Transcarpathian chowlent in pots. The Arpada Line Bunker is an underground military bunker over 800 meters long from the Second World War. Moving to the Derenivska Kupil resort (Nizhne Solotvino village, Uzhgorod district): Excursion on the luxurious territory of the resort. Incredible photos! Tasting mineral siliceous waters of Derenivska Kupil, Zakarpatska-1 and Zakarpatska-2. Return to Uzhhorod.
1
Comfort
You can count on our team to take care of you. Driving in a comfortable car, interesting and convenient excursions, full support and care for our tourists.
2
Transcarpathia
This region is like from another planet, warm climate, mountains, valleys, valleys, thermal resorts, incredible landscapes, interesting people and unique culture. A lifetime is not enough to get to know all of Transcarpathia!
3
Guides
Our professionals have been doing their favorite business for many years. And as we know, those professionals who really love their work do their work best. P.S. They also tell very interesting stories...
4
Sanitation
Everyone knows that Transcarpathia is not only about castles, mountains, and the beauty of nature. Here, even in one day, you can improve your health for a month ahead. Clean air, mild climate, spring waters, thermal pools and healing mud - all that is needed for recovery.
5
Everything is individual
The tour is individual. This means that our team will create all the conditions for rest just for you or your family.
2
Bunker of the Arpad Line
3
Sunny Zakarpattia sanatorium
Transfer along the route
Professional guide
*From each purchased tour, we transfer 10% to the Ukrainian Refugee Support Fund. All profits from press tours are transferred to the reconstruction of Ukraine.
RULES FOR STAYING IN HOTELS
The simultaneous stay of visitors in the hotel lobby not more than one person per 10 square meters of serviceable area is allowed.
Persons can visit hotels and stay there (outside hotel room) only if they wear respirator or face mask (including homemade mask), so that the nose and mouth are covered.
Hotel guests are obliged to keep the 1.5 meters distance.
Online check-in making in advance is recommended to avoid queues at check-in to hotel.
Meals in hotels are provided through meals delivery service to rooms upon prior order or at hotel restaurants situated inside or in open areas, provided the distance of at least 1.5 meters between seats at adjacent tables.
Not more than 4 clients are allowed to stay at the table (excluding children under 14 years old). Unless these tables are separated by a special partition;
Self-serve is not allowed.