Kamianets-Podilsky - city break
Kamianets - Podilskyi will amaze you with its canyon, fortress and the incredible town of Bakota
Tour dates: Every day

DAY 1

Arrival to Kamianets - Podilsky. Meet & welcome. Transfer to hotel. Check in.
Kamyanets has become #3 in the list of 7 historical wonders of Ukraine. It's the only city located on a natural island surrounded with a deep canyon. The town hall built in 15 century has been preserved in its original condition till now. The mightiest fortress of 14 century still guards the city and its historic treasures and secrets
City walking tour (3hrs) – Depending on the arrival time can be done on 1st day afternoon or next day morning.
You will listen to glorious story of the city with its legends and secret stories. Town is surrounded by Smotrich river that creates canyons and naturally protects town, so no wonder that fortress appeared here. Tour includes visit of the fortress that is a biggest landmark of the town.
Leisure time.Dinner. Overnight at the hotel.
DAY 2
Breakfast at the hotel. HALF DAY TOUR TO BAKOTA
Bakota is considered to be one of the blessed places in Ukraine which was inhabited as early as 5.000 B.C. In different times people worshiped gods and asked them for safety. In 11 A.D. it was converted into the Christian Orthodox monastery where monks prayed and healed people from illnesses. Nowadays, people still come here for miracles and monks from Tibet say it's one of the best places for meditation. Apart for its sacred aura, place became famous spot for relaxation, sport activities and family holidays
DAY 3
Breakfast. Day at Leisure.
Optional excursions can be offered (please refer to the separate file)
DAY 4
Breakfast. Check out of hotel. Transfer to the train station. Return back home.
The tour is conducted in Ukrainian. Other languages on request

*The originality of the text is completely preserved by the author of the tour (tour operator)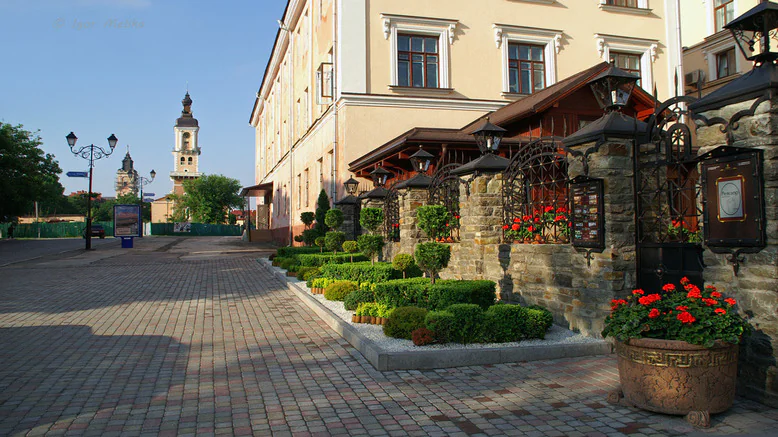 Five reasons to choose this tour
2
Take a walk in the Podolsk Tovtry National Park
3
Take a look at the Church of the Holy Trinity of the Trinitarian Monastery
4
Visit the town of Bakota
The Old Fortress is already a cult place where all presidents and celebrities are brought, where many movies and commercials have been shot.
The Polish market is the main square of Kamianets-Podilskyi, where the oldest town hall in Ukraine is located.
3
Church of the Holy Trinity Trinitarian Monastery
The Church of the Holy Trinity is an amazing beauty of the building in the Baroque style. The date of foundation is 1750.
Novoplansky Bridge was built in 1874 to connect the Old Town with the New one. This bridge has been under construction for 6 years (from 1868 to 1874). Its length is 136 m, height is 38 m.
Transfer along the route
Accommodation
3 nights at hotel in city centre
Meals
Breakfast Lunch on the second day Dinner
Еntrance tickets
Professional guide
*From each purchased tour, we transfer 10% to the Ukrainian Refugee Support Fund. All profits from press tours are transferred to the reconstruction of Ukraine.
RULES FOR STAYING IN HOTELS
The simultaneous stay of visitors in the hotel lobby not more than one person per 10 square meters of serviceable area is allowed.
Persons can visit hotels and stay there (outside hotel room) only if they wear respirator or face mask (including homemade mask), so that the nose and mouth are covered.
Hotel guests are obliged to keep the 1.5 meters distance.
Online check-in making in advance is recommended to avoid queues at check-in to hotel.
Meals in hotels are provided through meals delivery service to rooms upon prior order or at hotel restaurants situated inside or in open areas, provided the distance of at least 1.5 meters between seats at adjacent tables.
Not more than 4 clients are allowed to stay at the table (excluding children under 14 years old). Unless these tables are separated by a special partition;
Self-serve is not allowed.