Private Tour in Lviv City Dungeons
Once upon a time, every decent Lviv resident knew several entrances and exits to Lviv dungeons. Dungeons served as a shelter for hidden goods, and fugitives could double back in them. The Batiars, Lviv hooligans brought their stolen treasures there. We will visit the dungeons under the former Dominican monastery and Transfiguration Church, open an 18th century castle with a special key and go to the dungeon of the Jesuit Church. and how do you like the idea of putting on helmets and driving coffee carts at Lviv coffee mine? Is there anything in common with Spanish travelers and Ukrainian slaves? Where did Lviv witches fly for "advanced training courses"? How did the "bad gentleman" moonlight in Lviv?
Let's find the answers together! Starting at any time and place up to you!
(This is a private tour for you and your company only. Participation of other people is not foreseen)
*The originality of the text is completely preserved by the author of the tour (tour operator)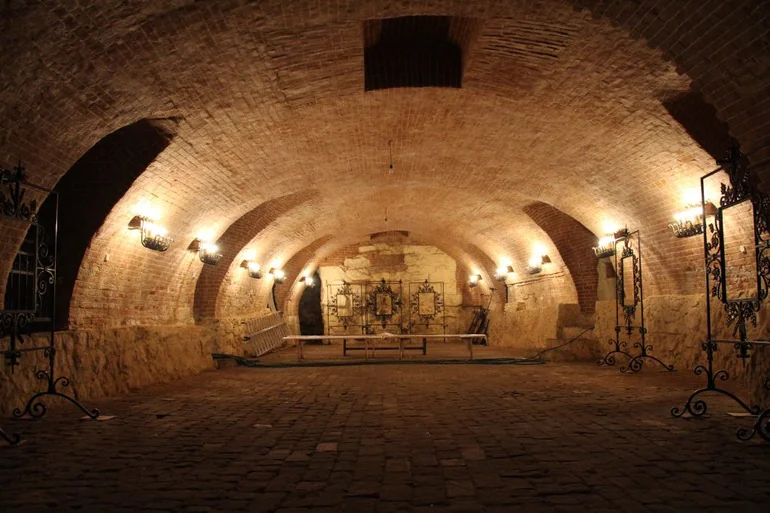 5 reasons to choose the tour
1
Originality
Go down to Lviv dungeons and take a look at the city from an unusual angle
2
City secrets
Discover the flip side of Lviv residents' lives and their connection to the city dungeons
3
Exclusive coffee show
Coffee on fire – you have never seen this before!
4
Majesty
Attend most majestic city cathedrals
5
Get in touch with the past
See the walls which have remained unchanged through centuries up to now
2
The Dominican Cathedral dungeon
3
Church of the Jesuits dungeon
5
Church of the Transfiguration dungeon
Professional guide
*From each purchased tour, we transfer 10% to the Ukrainian Refugee Support Fund. All profits from press tours are transferred to the reconstruction of Ukraine.
RULES FOR STAYING IN HOTELS
The simultaneous stay of visitors in the hotel lobby not more than one person per 10 square meters of serviceable area is allowed.
Persons can visit hotels and stay there (outside hotel room) only if they wear respirator or face mask (including homemade mask), so that the nose and mouth are covered.
Hotel guests are obliged to keep the 1.5 meters distance.
Online check-in making in advance is recommended to avoid queues at check-in to hotel.
Meals in hotels are provided through meals delivery service to rooms upon prior order or at hotel restaurants situated inside or in open areas, provided the distance of at least 1.5 meters between seats at adjacent tables.
Not more than 4 clients are allowed to stay at the table (excluding children under 14 years old). Unless these tables are separated by a special partition;
Self-serve is not allowed.