NEW YEAR'S ZAKARPATTYA IN 6 DAYS
Snow-covered picturesque mountains, ancient castles and temples, wines, 3 thermal pools, waterfalls and lakes, wine, cheese and snail tastings.
Tour date: December 30, 2022
Day 1
Departure from Lviv (09:00) - Sanatorium Karpaty (excursion to the Schönborn Palace) - Chinadievo (lunch) - Beregovo (swimming in the thermal pool) - Beregovo volcanic lowlands (wine tasting) - Beregovo district (accommodation in the estate of rural tourism). ) at 20:30, evening).

Day 2
Breakfast and departure (08:00) - Uzhhorod (city tour, castle, lunch) - Barvinok (swimming in the thermal pool) - Berehovo district (return to the estate at 19:00, preparation for the New Year's Eve)

Day 3
Late breakfast and departure (11:00) - Kosyno (swimming in thermal pools, 3.5 years old) - Mukachevo (lunch, tour of the castle and the city) - Berehovo district (evening).

Day 4
Late breakfast and departure (08:00) - Vynogradiv (photo with buffaloes on the farm and cheese tasting) - Veliatyno (swimming in the thermal pool) - Iza (Highland Ranch: swing, lunch, snail tasting, farm), Beregovo district. . (return to the estate, dinner).

Day 5
Breakfast and departure (08:00) - Iza (deer farm) - Lake Synevyr (excursion and lunch, bear shelter) - Kolochava (museums) - Iza (buying wicker products) - Beregovo district (return to the estate, vespers). ). ).
Day 6
Breakfast and departure (08:00) - Pylypets (inspection of the Shipot waterfall, lunch, ascent to Mount Himba by cable car, free time for winter entertainment) - Lviv (return by 22:00).
WARNING!The format of the celebration is subject to change, this applies only to music and dancing, information will be announced 1-2 weeks before the visit).
New Year's celebration takes place in the Imperial restaurant in the village of Matiyovo, Berehovo district. The approximate start of the New Year's program is 21:00. At 24:00 - Ukrainian New Year's Eve. 01:00 - Transcarpathian New Year's Eve. The guests are entertained by the pop band "Negy reszeges", the best dance group of Beregovo district teaches dancing. The New Year's program includes valley, Hutsul, Hungarian and Gypsy folk dances, and classical dances for special connoisseurs. All comers learn to dance chardash, participate in fun, competitions for wit and ingenuity, hurry, try their luck in the lottery.
Menu of the festive evening:
- cold appetizers: rolls, hams, sausages, pickled cucumbers, tomatoes, sauerkraut, tongue, carp, sandwiches, gray assorted Transcarpathian cheeses, assorted meat;
- Salads: French, fur coat, vegetable;
- Hot dishes: bograch, mashed potatoes with loci, dumplings with porcini mushroom gravy and Segedyn goulash;
- fruits and sweets;
- mineral water, sweet water.
- champagne, Transcarpathian wine, cognac, cheerful Carpathian water, juice, mineral water.
Warning! The New Year's celebration takes place in a restaurant in the village of Matiyovo, and accommodation is in the village of Bene (15 km away). Everyone goes to the celebration by a centralized bus and returns after the celebration in a predetermined year.To leave the celebration earlier or later than the set time, you can use a taxi.
*The tour is conducted in Ukrainian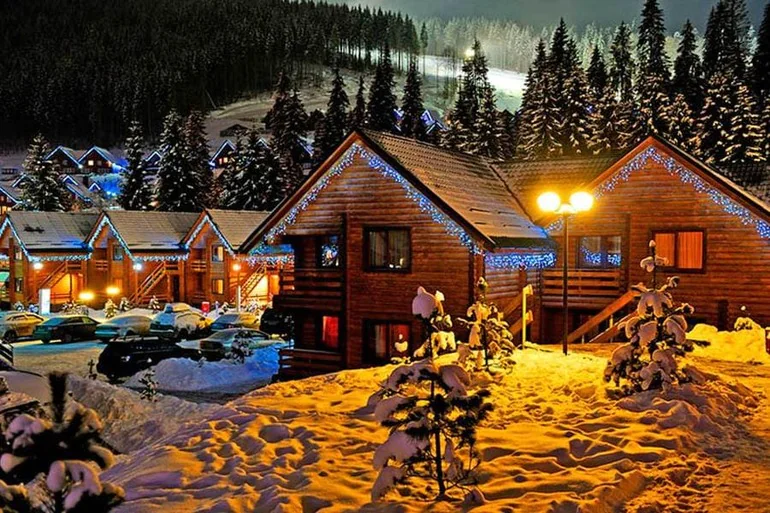 Accommodation and meals (dinners and breakfasts) take place in cozy estates of green tourism in the Berehiv region, rooms: 2- and 3-bed rooms with access to the corridor (calculated for 2-3 rooms).
The price does NOT include and will be paid additionally: Entrance tickets to tourist attractions. dinners
1
New Year's celebration in the "Imperial"
2
Bathing in the thermal pool
4
Overview of Shipit waterfall
5
Ascent on the cable-chair road to Mount Hymba
Among Carpathian picturesque mountains located one of the most beautiful and romantic palaces, in Ukraine - the hunting palace of the counts Shenbornov (1890). The palace is surrounded a beautiful park with many exotic plants and looks at us through 365 windows, invites us through 12 entrances to 52 rooms.
The former "Beregsas "has been around for a long time known their own architectural sights, but the majority tourists are going here for treatment, pleasure and rest. After all, it is located here in modern "Zhaivoronok" health resort, which is famous for pools with unique thermal water (temperature 31-45 C). The guests of the complex are whole year they can be treated and to rest in open and closed places swimming pools from natural mineral water, which rises directly from thermal wells depth more than 1 km.
3
Berehivske volcanic lowlands
The surroundings of Berehova have long been known throughout the world are famous with their wines, which have great scent and great wealth tasteful properties. It thanks to volcanic rocks on which grapes and energy grow in the sun, after all here is the sunniest days in Transcarpathia.
The first mention of it forever borders the city on the river's Uzh dates to 872, it enchants with its charm and color even the most demanding tourist. Take a walk historical on the street city - Korzo, look the most famous temple of the city Cathedral Khrestovozdvizhenskyi Cathedral (1841), Roman Catholic Church of St. George (1775), see one of the oldest in Ukraine castles (XIV century), Transcarpathian Folk Museum architecture and everyday life (skansen) and mandatory visit the cult in "Detsa u notarya".
Near Uzhhorod, surrounded by the Carpathians from the heart land, are rising thermal waters and bring health and joy for the guests of the recreation complex "Zolota Gora". They are waiting for you four modern thermal swimming pools with water temperatures of 29 and 39 degrees in indoors and outdoors spacious. The water is extraordinarily useful and in its composition is like the best thermal waters resorts in France, Germany and the Czech Republic.
Super modern The Kosino Thermal Waters recreation complex is in oak grove, has 5 swimming pools, 7 saunas, average temperature in thermal baths pools + 41 °C. The pride of the complex is the largest in Ukraine jacuzzi fountains with "coffee ", "wine", "beer", "palenka" and the illusion fountain "Golden faucet of health" 15.5 meters high. I like to rest here adults and children, as well benefits to the health.
Here on a lonely volcanic mountain is the most powerful fortress in Ukraine - Palanok Castle (XIV century), which was built by Prince Fedir Koryatovych, and the heroic glory of Princess Ilona Zrini. If you have free time in Mukachevo, you can also explore a lot of interesting things: the chapel of St. Martyna (XIV century), Rakotsi Palace (1663) and the beautiful green town hall (1903).
The Carpathian Buffalo farm is located near Black Mountain in Vyrodiv, where local enthusiasts are trying to save the northernmost buffalo population in the world. Currently, there are more than 30 Carpathian buffaloes on the farm, which you can observe, as well as taste and buy different varieties of buffalo and sheep cheese.
Here, among the picturesque volcanic mountains, springs of thermal water have been beating for a long time, on the basis of which the modern and comfortable tourist complex "Warm Waters" operates year-round. The local water rises from a depth of 1,000 meters, has a temperature of over 36 degrees, 33 times higher mineralization than seawater and is famous for its high content of iodine and bromine. 3 thermal, 2 mineral and 5 freshwater pools are waiting for you, where you can get a great charge of positivity and pleasure in addition to health.
The capital of wickerwork of Ukraine, passing through the village you can buy a variety of souvenirs made of vines, from simple utilitarian items to real works of art. You should also visit the deer farm, where more than a hundred spotted deer live and bring great joy to visitors. We invite you to visit the "Highland" ranch, which is famous for its snail farm. The meat of these animals is not only tasty, but also very useful, because it does not contain cholesterol and has many trace elements. There will be an opportunity to taste these aphrodisiacs, which are stuffed with various sauces and wine. There are other animals on the farm: Scottish cows and ponies, Cameroonian sheep, Nubian and Alpine goats, peacocks, swans and nutria.
The business card of the Ukrainian Carpathians is the incomparably beautiful Lake Synevyr, known popularly as the "Eye of the Sea", it beckons with picturesque mountain landscapes and crystal clear water, in which noble trout have long been found. The lake was formed approximately 10,000 years ago at an altitude of 989 meters and has a maximum depth of 22 meters.
One of the most beautiful villages in Transcarpathia, which is home to 10 museums, 20 monuments, and 50 historical places of interest, the most famous of which are the "Stare Selo" museum of folk architecture and life, the "Kolochavska narrow gauge" railway museum, and the "Kolochavskiy Bokorash" museum.
Here, from a height of 15 meters, one of the most beautiful waterfalls of Ukraine - Shipit waterfall - pours water into a picturesque mountain valley in many mesmerizing cascades between rocks. It originates from a large underground spring, i.e. the "eye of the sea", in one of the most beautiful places of the Ukrainian Carpathians - Borzhava valley. Staying here is a wonderful break from civilization and gives new vitality.
Transfer along the route
Professional guide
Travel insurance
Accommodation
Accommodation and meals (dinners and breakfasts) take place in comfortable rooms in green tourism estates of the Berehiv district, rooms: 2- and 3- bed with benefits on the corridor (calculated for 2-3 rooms).
Breakfastes
Dinners
New Year's fun (program, food, drinks, including alcohol)
*From each purchased tour, we transfer 10% to the Ukrainian Refugee Support Fund. All profits from press tours are transferred to the reconstruction of Ukraine.
RULES FOR STAYING IN HOTELS
The simultaneous stay of visitors in the hotel lobby not more than one person per 10 square meters of serviceable area is allowed.
Persons can visit hotels and stay there (outside hotel room) only if they wear respirator or face mask (including homemade mask), so that the nose and mouth are covered.
Hotel guests are obliged to keep the 1.5 meters distance.
Online check-in making in advance is recommended to avoid queues at check-in to hotel.
Meals in hotels are provided through meals delivery service to rooms upon prior order or at hotel restaurants situated inside or in open areas, provided the distance of at least 1.5 meters between seats at adjacent tables.
Not more than 4 clients are allowed to stay at the table (excluding children under 14 years old). Unless these tables are separated by a special partition;
Self-serve is not allowed.