Carpathian novelties for 5 days
Bathing in vats and thermal pools, tasting snails, jams, sausages, Transcarpathian dishes and incredible landscapes of Transcarpathia are waiting for you on this tour.
Tour dates: August 2, 9, 23, September 6, 20
Tour program
Day 1
Departure from Lviv (09:00) from Stryi (10:00) - Chynadiyevo (tour of St. Miklos Castle, lunch) - Kosyno (swimming in thermal pools) - Beregovo volcanic lowlands (wine tasting) - Beregovo district (check-in at the green tourism estate at 20:30, dinner)
Day 2
Breakfast and departure (08:00) - Botar (tasting of jam and sausages) - Khust (city tour, hat factory, ostrich farm, lunch) - Nyzhnye Selyshche (tasting of snails) - Velyatino (swimming in the thermal pool) - Beregovo district (return to the estate at 20:30, dinner).
Day 3
Breakfast and departure (08:00) - Mukachevo (city tour) - Barvinok (swimming in thermal pools) - Onokivtsi (Lunch tasting, during which you will enjoy the most interesting Transcarpathian dishes) - Perechyn (cheese tasting) - Pylypets (accommodation in the estate, dinner).
Day 4
Breakfast and departure (08:30) - Lumshory (bathing in vats) - Verkhnya Hrabivnytsia (inspection of the Carpathian bunker) - Pylypets (inspection of the Shipot waterfall, lunch, free time)
Day 5
Breakfast and departure (08:00) - Urych (museum and rock fortress) - Bukovytsia (cable car) - Truskavets (lunch and visit to the spa) - Lviv (return by 22:00)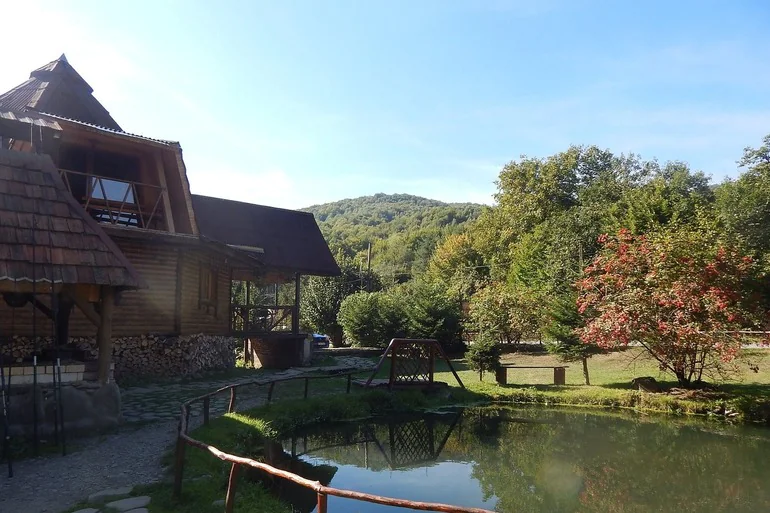 The tour price includes: travel by a comfortable bus, guide support, excursions to tourist sites, travel insurance, and accommodation.
The price does not include and is paid additionally: entrance tickets to tourist attractions, meals, tastings.
Entrance tickets St. Miklos Castle: voluntary donation. Thermal pool "Kosyno": general, pensioner, student, student - 500 UAH, children under 150 cm - free of charge. Wine tasting: 80 UAH, excursion without wine consumption - 40 UAH; Tasting of six types of jam and four types of sausage in Botar: general - 130 UAH/person, children under 14 - 100 UAH/person Ostrich farm in Khust: general, pensioner, student - 40 UAH, children under 12 - 30 UAH. Snail tasting with two sauces and wine: general, pensioner, student - tasting and excursion - 210 UAH, tasting - 160 UAH, excursion without tasting: adults - 50 UAH, children - 30 UAH; Thermal pool in Velyatino (2 hours): Thermal pool in Velyatino (2 hours): general, students - 250 UAH, pensioners over 60 and persons with disabilities of group I-II - 200 UAH, children under 140 cm tall and participants of military operations on the territory of Ukraine - 100 UAH, children under 3 and birthday child - free of charge; Thermal pool "Zolota Hora" (2 hours): general, pensioner, student - 300 UAH, children under 150 cm - 150 UAH, children under 110 cm - free of charge. Perechyn. Cheese tasting: 100 UAH for general admission. Bathing in vats with mineral water in the village of Lumshory: 160 UAH per person, children under 12 years old - 100 UAH per person. Bunker of the Arpad line: general admission: 100 UAH; pensioner, student admission: 70 UAH; student admission, ATO participants: 50 UAH. Shypit Waterfall: general admission: 20 UAH, children 7-16 years old: 10 UAH; children under 7 years old: free. Cable car to Mount Bukovytsia (two-way): general, student, pupil - 100 UAH; pensioners, ATO participants, children under 12 - 80 UAH; children under 6 - free; State Historical and Cultural Reserve "Tustan": general admission - 85 UAH, pensioner, student, pupil - 45 UAH. SPA-center of the Geneva Hotel: general - 350 UAH/person, children 3 - 12 years old - 175 UAH/person.
1
The largest jacuzzi fountains in Ukraine with coffee, wine, beer and an illusion fountain Golden tap of health, 15.5 meters high
2
Khust factory of felt hats "Khust-filz", here - one of the largest assortment of hats in Europe
3
Botar is a place for culinary gourmets, here you can try different varieties of lekvara (jam), Mongolian pig sausages and organic juices
4
Kamenets waterfall is a miracle of nature, it is a cascade of waterfalls 7 meters high
5
The State Historical and Cultural Reserve "Tustan" is one of the most beautiful and picturesque places in Ukraine
In the middle of the historic town of St. Miklos there is the dark medieval castle of Baron Pereni (XIV century). The castle features: a unique interior, including a secret passage and the bedroom of the courageous Ilona Zrini. This is where she met with Count Imre Tekeli. This Castle is also known as the "Castle of Love". The building was saved by the artist Joseph Bartosz.
Thermal Waters Kosino is a modern complex, located in an oak grove, has 5 swimming pools, 7 saunas and the average temperature in the thermal pools reaches + 41 °C. The pride of the complex is that it has the largest fountains and jacuzzis in Ukraine. In the complex, they serve coffee, wine, beer and palenque. The fountain of illusion, the "Golden crane of health", has a height of 15.5 meters. This spa can be enjoyed by both adults and children.
Khust is the capital of Carpathian Ukraine, which is located at the crossroads of the Tisza and Rika rivers. The picturesque ruins of the impregnable and once insuperable Khust Castle (XI-XVI centuries) rise above the city. In the city, you can stroll through the Czech quarter and explore the pearl of Transcarpathian sacral construction: the Elizabeth Church, now a Protestant church (XI century). Not far from the center of Khust there is an ostrich farm which is home to the biggest birds in the world. Adult individuals of this species can reach a height of 2.7 m. and weigh up to 130 kg.
This place is popular among culinary gourmets, because it is here that the farm and the tasting room are located, where you can enjoy various varieties of lekvara (jam), Mongolycia pig sausages and ecological juices. Additionally, you can take a photo of the background near the monument of the pig and a jar of jam.
5
Volcanic lowlands – Berehovo
On the outskirts of Berehovo, you will find vineyards that have long been world-famous for their wines. The wines are rich in flavor and aroma. This is due to the volcanic rocks on which the grapes ripen and the Transcarpathian sun's energy.
Wherever wouldn't you approach Mukachevo from, on a lonely pointed top, like a magnet, covered with legends and battle glory Mukachevo Castle "Palanok" attracts you.This remarkable military-architectural monument of the Middle Ages was built for protection and control of trade and military routes. Some sources claim that already inIX-X centuries there was a small fort on the mountain built to guard the borders of Kievan Rus beyond the Carpathians. The rusʹkyy prince Fyodor Koryatovich built the castle and turned it into his own residence. The castle walls remember their defender Ilona Zrini, who showed an outstanding courage and heroism in the defense of the castle.
Not far from Uzhgorod, surrounded by the Carpathians, the thermal waters rise from the very heart of the earth and bring health and joy to the guests of the Golden Mountain complex. Four modern thermal pools with water temperatures of 29 and 39 degrees (Celsius) indoors and in open space are waiting for you. The water is extremely useful and similar in composition to the thermal waters of the best resorts in France, Germany and the Czech Republic.
To learn the taste of Transcarpathia, we invite you to a degustation dinner, during which you can taste the most interesting Transcarpathian dishes, and listen to the a performance of the local Kudakovs (musicians).
In the middle of the forest, above the picturesque valley of the river, are the ruins of the once famous castle of Glory (XIVth c.). According to legend, it served as a shelter for women and girls and even to this day, it still amazes with its grandeur and size.
Resort "Krasiya" is located among the picturesque Carpathians. To see the magical landscapes of mountain ranges and peaks and untouched Carpathian nature, you can climb the cableway to Krasia Mountain (1036m).
At the foot of the Poloninsky spine of the Ukrainian Carpathians is the balneological resort of Lumshory, which has been known since the 17th century. Paradise, beauty of nature, and the elements of "hell" are closely intertwined in it – heat yourself in huge metal vats over low heat in the mineral hydrogen sulfide water. For more enjoyment, you can alternate heating in a bath and swimming in cold water. Such a holiday, in addition to unforgettable impressions, leads to the improvement of the musculoskeletal system and rejuvenates the body for ten years.
One of the most beautiful parks in Transcarpathia perfectly combines the amazing beauty of the Carpathians mountains and elegant park art. The guests of the park are fascinated by the smooth surface of the lake against the backdrop of mountains, cities of four evangelists and Celtic garden with a calendar of druids. The park is very beautiful at all times of the year, and a walk through its alleys soothes and gives vitality.
In this Carpathian town, there is a cheese factory called Perechinsk Manufactory, which produces high-quality natural cheese made from cow's milk. Local cheesemakers are experimenting a lot ; so, they have a very large selection of cheeses that can satisfy the tastes of the most demanding gourmets.
The decoration of the village is a wooden church of St. Pokrovy (1645r.), Built in village Syanki in Lviv region and in 1703 brought to the present place.
The spa resort known in the past, located on the border of the three countries at the picturesque Carpathian pass, is now known to the whole world as a masterpiece of Boykiv sacral architecture - the church of St. Michael (1745) It is one of the most wooden temples of Ukraine and is listed as a UNESCO World Heritage Site. The village has long been famous for its healing waters; you can improve your health in the recreation complex "Uzhans'ki kypeli". Distinguished guests here are invited to relax and replenish their strength in three vats with mineral water, a Russian bath with a hot tub, a Turkish bath with a jacuzzi, a Finnish sauna and a Japanese bath.
In this Carpathian village there is one of the best wooden temples in the world, a masterpiece of Boykiv's sacred architecture - the Church of the Cathedral of the Blessed Virgin Mary (1838), which is included in the UNESCO World Heritage List.
Kamianetsky Waterfall – is a miracle of nature, this is a cascade of waterfalls 7 meters high, which is located in the National Natural Park "Holy Beskydy". It is believed that if a girl swims in a waterfall in the morning, she will marry successfully within a year.
State Historical and Cultural Reserve "Tustan" - one of the most beautiful and picturesque places in Ukraine. This is a ridge of sandstone stones in the form of rocks in the middle of the Carpathians, which formed 25 million years ago and created a picturesque complex of exotic forms and works. Tustan was an important strategic point and was part of a unified system of the Carpathian line of defense of the south-western borders of Kyivan Rus, and then the Kingdom of Ruthenia. In the IX-XIII centuries on the rocks there was a defense complex, customs and a fortress city, the central part of the fortifications occupied 3 hectares.
Transfer along the route
Professional guide
Travel insurance
Accommodation
*From each purchased tour, we transfer 10% to the Ukrainian Refugee Support Fund. All profits from press tours are transferred to the reconstruction of Ukraine.
RULES FOR STAYING IN HOTELS
The simultaneous stay of visitors in the hotel lobby not more than one person per 10 square meters of serviceable area is allowed.
Persons can visit hotels and stay there (outside hotel room) only if they wear respirator or face mask (including homemade mask), so that the nose and mouth are covered.
Hotel guests are obliged to keep the 1.5 meters distance.
Online check-in making in advance is recommended to avoid queues at check-in to hotel.
Meals in hotels are provided through meals delivery service to rooms upon prior order or at hotel restaurants situated inside or in open areas, provided the distance of at least 1.5 meters between seats at adjacent tables.
Not more than 4 clients are allowed to stay at the table (excluding children under 14 years old). Unless these tables are separated by a special partition;
Self-serve is not allowed.