The Tale of Transcarpathia + Synevyr Lake
We will visit the historic castle, which has a beautiful history of its own, the castle "Palanok." He has seen a lot on his way, and now he is looking at Europe and his own past, an invincible and photogenic relic of the Middle Ages. Let's walk to the waterfall "Shypit". It is believed to be one of the most beautiful places in the Carpathians.
We swim in the Kosino health complex Modern conditions, beautiful swimming pools (with the aroma of beer, wine, etc.), royal saunas will not leave anyone indifferent (eucalyptus sauna, salt fox hole, herbal sauna, Roman bath, hammam, Hungarian sauna, ice cave).
You will also have the opportunity to take a lot of beautiful photos around Lake Synevyr. Lake Synevyr is rightly considered the most precious natural treasure of the eponymous National Nature Park and one of the hallmarks of the Ukrainian Carpathians. It is located at an altitude of 989 meters above sea level. There is a legend that the picturesque lake was formed from a stream of tears of the count's daughter Sin, to the place where her beloved, a simple Verkhovyna shepherd Vir, was killed by a stone pit on the orders of the insidious count. In fact, Synevyr Lake was formed in the post-glacial period, about 10 thousand years ago, as a result of landslides blocking the river valley.
Tour dates: October 21, 28, November 4, 11
Tour program:
Day 1
05.20 - Departure from Rivne (Pokrovsky shopping center near the flower shop);
08-00 - Departure from Lviv (near the Lviv hotel). Time and place of departure from other cities will be specified individually;
08.30 - 09.00 - Stop for breakfast;
12.30 - 14.00 - Visit to Palanok Castle
14.30 - 15.00 - Lunch in the pavilions.
15.00 - 18.00 - Kosino thermal water complex
18.30 - 19.30 - Free wine tasting;
21.00 - Arrival at the hotel complex.
Day 2
08.30 - Breakfast at the hotel.
09.00 - Departure for the tour.
09.30 - 09.40 - Stop and mineral water tasting in the village of Kelechyn. The mineral spring is quite ancient.
10.00 - 10.15 - Overview of the landscapes of the Synevyr pass.
11.00 - 12.45 - Visit one of the largest and most beautiful lakes in the Ukrainian Carpathians - Lake Synevyr.
13-00 - 13-45 - Tasting dishes in a real Transcarpathian kolyba.
14-00 - 14-45 - Rehabilitation center for brown bears
15-30 - 17-00 - Kolochava is a unique village in Zakarpattia, located in the picturesque Tereblya Valley.
18.00 - Arrival at the hotel complex.
Day 3
09.00 - 09.30 - Breakfast at the hotel.
10.30 - 12.30 - Sightseeing tour of Pylypets village.
13.00 - 14.30 - Hiking to the waterfall "Shipit".
19-00 - Return to Lviv.
22.00 - 22.30 - Return to Rivne.
*The originality of the text is fully preserved by the author of the tour (tour operator)
*The tour is conducted in Ukrainian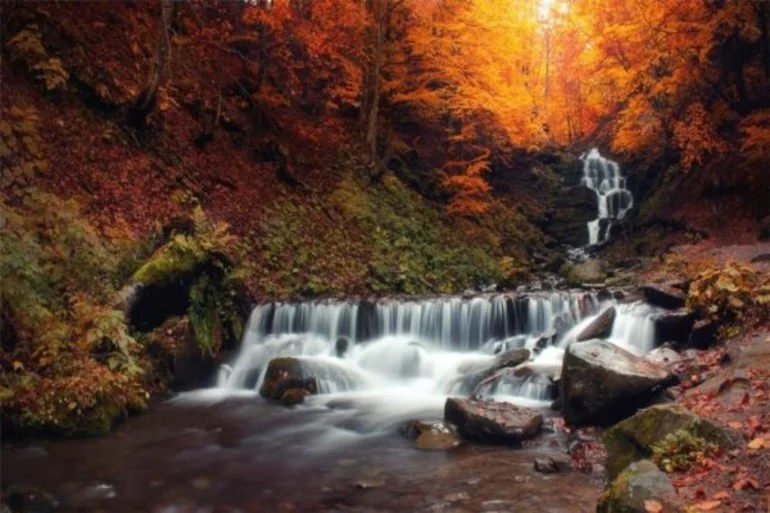 Not included in the tour price: Thermal pools in Kosyno 450 UAH. adult / 3 hours; Palanok castle - 100 UAH. entrance ticket to the lake "Synevyr" - 30 UAH. Rehabilitation center of the brown bear - 30 UAH. с. Kolochava - adult - 90 UAH Shypit waterfall: general - 20 UAH, ski lift to Pylypets - men - 180 UAH, women - 130 UAH meals at the hotel - 100-150 UAH; Personal expenses (souvenirs, etc.).
5 reasons to choose this tour
1
We will visit the castle "Palanok"
2
We will bathe in thermal waters
3
We will visit the brown bear rehabilitation centre
4
We will take a walk to the Shipit waterfall
5
We will admire the beauty of the Synevyr Pass
It is medieval fortification architecture, with a combination of different styles. Palanok Castle can be seen a few kilometres from Mukachevo. It is ruled by a 68-meter-high extinct volcano as its foundation-pedestal. The city is somewhere down there, and the outpost is open to all views and winds, and only behind, in the north, rise the volcanic Carpathians. He has seen a lot at his age, and now he looks into Europe and his past, which is almost a millennium-long. Palanok is an invincible and photogenic relic of the Middle Ages.
The mineral source is really old. It is a small log cabin with a pipe through which outside turns out under average pressure mineral water from the very original and bright taste..
It is a unique village in Transcarpathia, located in the picturesque Tereblyan Valley. There are wonderful mountain views, clean air, mineral water and the hospitality of residents will make your vacation here pleasant and useful. On the territory of the village, there is a real parish school, a workshop from the middle of the last century and the only museum of the history of the Kolochava Narrow Gauge Railway in Transcarpathia, which has been preserved by the villagers since 1959. Today, all willing tourists can ride it.
The purpose of the centre is to rehabilitation brown bear individuals, which suffered cruel treatment of victims from natural disasters, maintain confiscated animals, whose further fate is decided in court in connection with violation laws of Ukraine, reproduction of their natural population, and temporary delay animals detained at the border due to violations environmental protection legislation etc.
Professional guide
Transfer along the route
Meals
Travel insurance
Accommodation
*From each purchased tour, we transfer 10% to the Ukrainian Refugee Support Fund. All profits from press tours are transferred to the reconstruction of Ukraine.
RULES FOR STAYING IN HOTELS
The simultaneous stay of visitors in the hotel lobby not more than one person per 10 square meters of serviceable area is allowed.
Persons can visit hotels and stay there (outside hotel room) only if they wear respirator or face mask (including homemade mask), so that the nose and mouth are covered.
Hotel guests are obliged to keep the 1.5 meters distance.
Online check-in making in advance is recommended to avoid queues at check-in to hotel.
Meals in hotels are provided through meals delivery service to rooms upon prior order or at hotel restaurants situated inside or in open areas, provided the distance of at least 1.5 meters between seats at adjacent tables.
Not more than 4 clients are allowed to stay at the table (excluding children under 14 years old). Unless these tables are separated by a special partition;
Self-serve is not allowed.