Underground Khreshchatyk: an individual tour
Underground Khreshchatyk: an individual tour

Tour dates: every day

Meeting place: from the metro station. Olimpiyska (at the entrance to the Planetarium)
During the tour you will see and learn:
- Where the legendary Goat Swamp was located;
- What Kyivans of different generations called Khreshchatyk Pipe;
- How Princess Lybid presented the city with a railroad;
- Where you can see the Gorodetsky collector;
- How many underground streets there are under Khreshchatyk;
- Let's walk through the Gallery of Stars;
- What the main stadium of the capital hides beneath;
What you need to know before the tour:
Wear things that you don't mind getting a little dirty (shoes, pants, outerwear);
It is recommended to have a belt (or belt loops) on your pants;
Shoes should be comfortable and not too bad to get dirty;
DO NOT take backpacks and other bulky items;
The temperature underground is +12;
Additional information:
For the duration of the tour, we provide special rubber boots that you wear over your shoes;
We also give out flashlights;
The tour is seasonal in nature
In case of rain, the tour is transferred to another location or canceled;
THIS IS NECESSARY FOR YOUR SAFETY
The tour is not intended for individuals:
those who suffer from claustrophobia (fear of confined spaces) or nyctophobia (fear of the dark);
overweight people - you need to be able to climb into a classic hatch;
persons with heart disease or other diseases that prevent them from engaging in physical activity;
people with problems with the lower back, spine, etc;
children under 7 years old;
The price is for an individual tour (1-10 people)

The tour is conducted in Ukrainian or English to choose from.
To book a tour in English, select the "Underground tour in English" option when booking.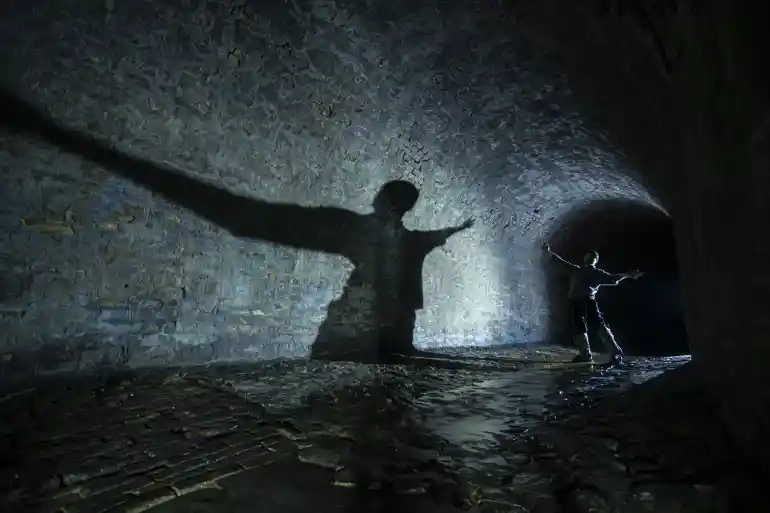 Few people know that there is an underground river under Khreshchatyk. It formed the valley that later grew into the central street of Kyiv. Once a full-flowing river, it witnessed many historical events, which it has preserved and safely hides to this day. After all, everyone knows that water has a memory, but it can tell its stories only to those daredevils who dare to visit it - underground.
1
See the unique mysterious dungeons of Kyiv
2
Learn a bunch of interesting facts that you can't find on the Internet or hear from others
3
Listen to very interesting, sometimes creepy stories from our guide
4
Feel the adrenaline moving through the underground passages and tunnels
5
The tour will be conducted exclusively for you - individually, you are in charge!
1
The dungeons of Khreshchatyk
Professional guide
*From each purchased tour, we transfer 10% to the Ukrainian Refugee Support Fund. All profits from press tours are transferred to the reconstruction of Ukraine.
RULES FOR STAYING IN HOTELS
The simultaneous stay of visitors in the hotel lobby not more than one person per 10 square meters of serviceable area is allowed.
Persons can visit hotels and stay there (outside hotel room) only if they wear respirator or face mask (including homemade mask), so that the nose and mouth are covered.
Hotel guests are obliged to keep the 1.5 meters distance.
Online check-in making in advance is recommended to avoid queues at check-in to hotel.
Meals in hotels are provided through meals delivery service to rooms upon prior order or at hotel restaurants situated inside or in open areas, provided the distance of at least 1.5 meters between seats at adjacent tables.
Not more than 4 clients are allowed to stay at the table (excluding children under 14 years old). Unless these tables are separated by a special partition;
Self-serve is not allowed.