10 raisins of Transcarpathia
The Carpathians, castles, palaces, wines, all the best that hospitable Transcarpathia has to offer is waiting for you!
Tour dates: Every Friday
Tour program
Day 1
Departure from Lviv (09:00) - Karpaty sanatorium. Schönborn Palace (tour) - Mukachevo (tour of the castle and lunch) - Beregovo (swimming in the thermal pool) - Beregovo district (overnight in Hungarian rural tourism estates, check-in at 21:00).
Day 2
Breakfast and departure (08:00) - Uzhhorod (city tour, castley and lunch) - Lumshory (bathing in vats) - Beregovo (wine tasting) return to the estate at 21:30.
Day 3
Breakfast and departure (08:00) - Vynogradiv (cheese tasting) - Synevyr Pass (photography and viewing of the Carpathian panoramas) - Synevyr National Park (crossing to the lake, lunch, brown bear rehabilitation center) - Lviv (return at 22:00).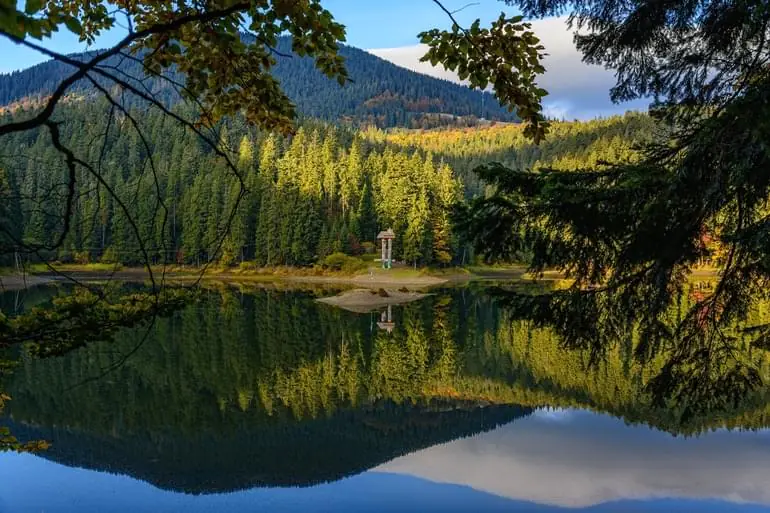 The tour price includes: travel by a comfortable bus; guide support; excursion services at tourist sites; travel insurance; accommodation. The price does not include and is paid additionally: entrance tickets to tourist attractions; meals; tastings.
Entrance tickets: Schönborn Palace: adults - 30 UAH, schoolchildren - 20 UAH; Mukachevo Castle: adults - 100 UAH, children under 14 - 50 UAH; Thermal pool "Lark" in Beregovo: Thermal pool "Lark" in Beregovo (2 hours): general - 240 UAH, children from 120 to 150 cm - 120 UAH, children under 120 cm - free, locker rental - 30 UAH, (children under 150 cm are allowed in the pool only in swimming armbands); Wine tasting: 80 UAH, excursion without wine consumption - 40 UAH; Visit to the cheerful restaurant "Detsa u notarya": general - 5 UAH, children under 120 cm - free of charge Uzhhorod Castle: general (adults) - 100 UAH, children - 40 UAH. Bathing in vats with mineral water in the village of Lumshory: 160 UAH/person, children under 12 - 100 UAH/person. Tasting of three varieties of cheese with wine: total - 100 UAH. Lake Synevyr: 60 UAH for adults, 30 UAH for children. Brown Bear Rehabilitation Center: Brown bear rehabilitation center: general admission: 60 UAH, children: 30 UAH;
Accommodation: Farmsteads of rural tourism in Beregovo district Accommodation takes place in cozy estates. Rooms: 2-bed and 3-bed (with private facilities in the corridor).
1
Tour of Schönborn Palace
2
Berehovo - swimming in a thermal pool
4
"Synevyr" National Park - lake view, brown bear rehabilitation center
5
Synevyr Pass - photographing and viewing the Carpathian panoramas
1
Mukachevo Palanok Castle
Here on a lonely volcanic mountain is the most powerful fortress in Ukraine - Palanok Castle (XIV century), which was built by Prince Fedir Koryatovych, and the heroic glory of Princess Ilona Zrini. If you have free time in Mukachevo, you can also explore a lot of interesting things: the chapel of St. Martyna (XIV century), Rakotsi Palace (1663) and the beautiful green town hall (1903).
2
Coastal Thermal pool "Zhaivoronok"
Former Beregsas has long been known for its architectural monuments, but most tourists come here for treatment, pleasure and relaxation. After all, it is here that the modern Zhayvoronok health resort is located, which is famous for its pools with unique thermal water (temperature 31-45 C). All year round, guests of the complex can be treated and relax in outdoor and indoor pools with natural mineral water that rises directly from thermal wells more than 1 km deep.
The first mention of this eternal border town on the Uzh River dates back to 872, it will charm even the most demanding tourist with its charm and color. Take a walk along the historical street of the city - Korzo, be sure to visit the most famous church of the city, the Cathedral of the Holy Cross (1841), the Roman Catholic Church of St. George (1775), see one of the oldest castles in Ukraine (14th century), the Transcarpathian Museum of Folk Architecture and Life (open-air museum) and be sure to visit the iconic Dets inn at the notary.
At the foot of the largest polony of the Ukrainian Carpathians, the Runa polony, is the Lumshory balneological resort, which has been known since the 17th century. In it, the heavenly beauty of nature and the elements of hell are closely intertwined in huge metal vats, in which you will be boiled over a slow fire in mineral hydrogen sulfide water. For greater enjoyment, you can alternate var soaking in a tank and bathing in cold water. Such rest, in addition to unforgettable impressions, leads to the recovery of the musculoskeletal system and rejuvenates the body by ten years.
The business card of the Ukrainian Carpathians is the incomparably beautiful Lake Synevyr, known popularly as the "Eye of the Sea", it beckons with picturesque mountain landscapes and crystal clear water, in which noble trout have long been found. The lake was formed approximately 10,000 years ago at an altitude of 989 meters and has a maximum depth of 22 meters.
Transfer along the route
Professional guide
Travel insurance
Accommodation
Takes place in cozy estates. Rooms: 2-person and 3-person (with benefits in the corridor).
*From each purchased tour, we transfer 10% to the Ukrainian Refugee Support Fund. All profits from press tours are transferred to the reconstruction of Ukraine.
RULES FOR STAYING IN HOTELS
The simultaneous stay of visitors in the hotel lobby not more than one person per 10 square meters of serviceable area is allowed.
Persons can visit hotels and stay there (outside hotel room) only if they wear respirator or face mask (including homemade mask), so that the nose and mouth are covered.
Hotel guests are obliged to keep the 1.5 meters distance.
Online check-in making in advance is recommended to avoid queues at check-in to hotel.
Meals in hotels are provided through meals delivery service to rooms upon prior order or at hotel restaurants situated inside or in open areas, provided the distance of at least 1.5 meters between seats at adjacent tables.
Not more than 4 clients are allowed to stay at the table (excluding children under 14 years old). Unless these tables are separated by a special partition;
Self-serve is not allowed.