INDIVIDUAL TOUR: UZHGOROD AND ENVIRONS
Uzhhorod and the surrounding area:INDIVIDUAL TOUR

A car tour of Uzhhorod and the surrounding area will appeal to everyone who wants to see a lot of interesting things and does not like long journeys.
There are so many interesting things to do in Uzhhorod, especially in the city center, which is simply adored by tourists and locals alike. There are no less interesting things on the outskirts, and we suggest visiting them as part of the Uzhhorod and the Outskirts car tour.
We enjoy morning aromatic coffee, get acquainted with the "little inhabitants" of the city - mini-sculptures, relax in the Horyany Rotunda, have lunch in the tavern-museum, swim in the thermal pools at the ranch, are you intrigued yet?
Tour dates: daily
Tour program
Sightseeing walk around the city.
Get acquainted with cute bronze mini-sculptures.... Every year there are more and more of them. The monuments are dedicated to interesting historical figures, characters or mythical heroes. Guests of the city will have the opportunity to see Mozart, Harry Houdini, Andy Warhol, the Eiffel Tower, a family of hedgehogs, a bronze TV set and many more interesting things.
Visiting cozy cafes in the city and tasting real Transcarpathian coffee. It's not for nothing that they say that Lviv is famous for its coffee shops, and Uzhhorod for its coffee! The coffee shops in Uzhhorod are also just fine!
Familiarization with the sacred monument of Ukraine - the oldest functioning church of the 11th century. The Horyany Rotunda - sung in legends, shrouded in mysteries - still raises many questions about its origin. Six walls of the ancient temple are decorated with frescoes of the 14th century and ancient wall paintings that will impress with their skillfulness.
An introduction to the cult cheerful tavern-museum "Detsa u notarya": the history of its origin, a peculiar Transcarpathian humor, and an interesting biography of the owner.
Lunch.
Swimming in the thermal pools at the Zolota Hora Ranch. There are five thermal pools with different temperature conditions. Thermal resorts in France, Germany, and the Czech Republic have similar water composition.
17.00 - return to Uzhhorod.
Duration of the tour - 1 day
*The tour is conducted in Ukrainian, Russian or English to choose from.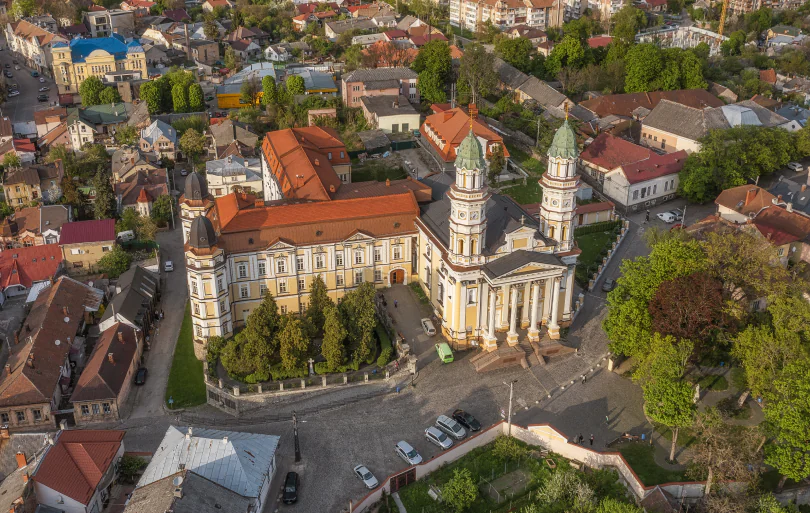 The tour price includes: Travel by comfortable car Accompaniment of a guide-explorer Excursion service at tourist sites
The tour price is not included and is paid additionally: Swimming in the thermal pools of the Golden Mountain Ranch - 250 UAH/person. Lunch in the inn - approx. 150 UAH/person. Tasting of Transcarpathian coffee Personal expenses.
1
Comfort
You can count on our team to take care of you. Driving in a comfortable car, interesting and convenient excursions, full support and care for our tourists.
2
Transcarpathia
This region is like from another planet, warm climate, mountains, valleys, valleys, thermal resorts, incredible landscapes, interesting people and unique culture. A lifetime is not enough to get to know all of Transcarpathia!
3
Guides
Our professionals have been doing their favorite business for many years. And as we know, those professionals who really love their work do their work best. P.S. They also tell very interesting stories...
4
Sanitation
Everyone knows that Transcarpathia is not only about castles, mountains, and the beauty of nature. Here, even in one day, you can improve your health for a month ahead. Clean air, mild climate, spring waters, thermal pools and healing mud - all that is needed for recovery.
5
Everything is individual
The tour is individual. This means that our team will create all the conditions for rest just for you or your family.
Transfer along the route
Professional guide
*From each purchased tour, we transfer 10% to the Ukrainian Refugee Support Fund. All profits from press tours are transferred to the reconstruction of Ukraine.
RULES FOR STAYING IN HOTELS
The simultaneous stay of visitors in the hotel lobby not more than one person per 10 square meters of serviceable area is allowed.
Persons can visit hotels and stay there (outside hotel room) only if they wear respirator or face mask (including homemade mask), so that the nose and mouth are covered.
Hotel guests are obliged to keep the 1.5 meters distance.
Online check-in making in advance is recommended to avoid queues at check-in to hotel.
Meals in hotels are provided through meals delivery service to rooms upon prior order or at hotel restaurants situated inside or in open areas, provided the distance of at least 1.5 meters between seats at adjacent tables.
Not more than 4 clients are allowed to stay at the table (excluding children under 14 years old). Unless these tables are separated by a special partition;
Self-serve is not allowed.