TRANSCARPATIAN ADVENTURES + "MULTWINE FESTIVAL"
Carpathian bunker, swimming pools in Berehove and Velyatino, deer, wine, jam, sausage and snail tastings!
ATTENTION!!! During the martial law, the concert and entertainment program "Mulled Wine Festival" will not be held!
Tour dates: 04.11, 18.11, 02.12
Tour program:
Day 1
Departure from Lviv (08:00) / Stryi (09:00) - Verkhnya Hrabivnytsia (tour of the Carpathian bunker) - Mukachevo (lunch) - Berehove (swimming in the new thermal pool) - Berehove volcanic lowlands (wine tasting) - Berehove district (check-in at the green tourism estate at 19:50, concert and entertainment program "Mulled Wine Festival").
Day 2
Breakfast and departure (07:00) - Botar (tasting of jam and sausages) - Velyatino (swimming in the thermal pool) - Khust (lunch) - Iza (excursion to the Highland Ranch with snail tasting, excursion to the deer farm) - Stryi (21:30) / Lviv (return at 22:30).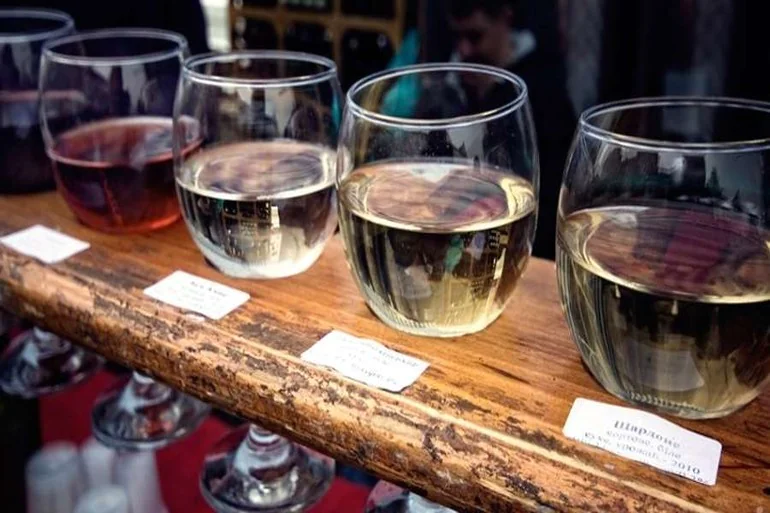 The price does NOT include and is additionally paid for: Meals, tastings, entrance tickets to tourist attractions.
Entrance fees: Arpad line bunker: general - 100 UAH; pensioners, students - 70 UAH; schoolchildren, ATO participants - 50 UAH. Thermal pool "Zhayvoronok" in Berehove (2 hours): general - 230 UAH, pensioners - 175 UAH, persons with disabilities of group I, students, children from 120 to 150 cm - 115 UAH, children under 120 cm - free, locker rental - 30 UAH, (children under 150 cm are allowed in the pool only in swimming armbands); Wine tasting: 100 UAH/person, excursion without wine consumption 40 UAH/person; Tasting of six types of jam and four types of sausage in Botar: total - 130 UAH/person, children under 14 - 100 UAH/person; Thermal pool in Veliatyno (2 hours): general, students - 250 UAH, pensioners from 60 years old and persons with disabilities of I-II groups - 200 UAH, children under 140 cm and participants in hostilities on the territory of Ukraine - 100 UAH, children under 3 years old and birthday child - free of charge; Deer farm: general, pensioner and student - 30 UAH, schoolchildren - 20 UAH; Snail tasting with two sauces and wine: general, pensioner, student - tasting and excursion - 210 UAH, tasting - 160 UAH, excursion without tasting: adults - 50 UAH, children - 30 UAH;
1
Swimming in the new thermal pool
3
Excursion to Ranch "Highland" with snail tasting
4
Excursion to a deer farm
5
Survey of the Carpathian bunker
In the very heart of the Carpathians is a grand bunker, which is the most preserved and interesting object of the once super-powerful Arpad defense line, which was built by the Hungarian army in 1943-1944. For protection against the Soviet army. We suggest you walk through a giant one and a half kilometer long tunnel with side branches and ventilation shafts to feel like a real military tourist.
The former "Beregsas" has long been known for its architectural monuments, but most tourists come here for treatment, pleasure and relaxation. After all, it is here that the modern health resort "Zhaivoronok" is located, which is famous for its pools with unique thermal water (temperature 31-45 C). All year round guests of the complex can be treated and relax in outdoor and indoor pools with natural mineral water that rises directly from thermal wells more than 1 km deep.
3
Berehiv Volcanic Lowland
The surroundings of Berehova have long been famous throughout the world for their wines, which have a wonderful aroma and a great wealth of taste properties. This is thanks to the volcanic rocks on which the grapes grow and the energy of the sun, because this is where the most sunny days are in Transcarpathia.
This place is popular among culinary gourmands, because it is here that the tasting room is located, where you can taste different types of lekvar (jam), Mongolian pork sausages and ecological juices. Fortunately, you can take a photo in the background near the pig monument and jam jars.
Here, among the picturesque volcanic mountains, springs of thermal water have been beating for a long time, on the basis of which the modern and comfortable tourist complex "Warm Waters" operates year-round. The local water rises from a depth of 1,000 meters, has a temperature of over 36 degrees, 33 times higher mineralization than seawater and is famous for its high content of iodine and bromine. 3 thermal, 2 mineral and 5 freshwater pools are waiting for you, where you can get a great charge of positivity and pleasure in addition to health.
The capital of wickerwork of Ukraine, passing through the village you can buy a variety of souvenirs made of vines, from simple utilitarian items to real works of art. You should also visit the deer farm, where more than a hundred spotted deer live and bring great joy to visitors.
We invite you to visit the "Highland" ranch, which is famous for its snail farm. The meat of these animals is not only tasty, but also very useful, because it does not contain cholesterol and has many trace elements. There will be an opportunity to taste these aphrodisiacs, which are stuffed with various sauces and wine. There are also other animals on the farm: Scottish cows and ponies, Cameroonian sheep, Nubian and Alpine goats, peacocks, swans and nutria.
Transfer along the route
Professional guide
Travel insurance
Accommodation
Cozy homesteads of rural tourism in the Berehiv district, 2- and 3-bed rooms with benefits in the corridor.
*From each purchased tour, we transfer 10% to the Ukrainian Refugee Support Fund. All profits from press tours are transferred to the reconstruction of Ukraine.
RULES FOR STAYING IN HOTELS
The simultaneous stay of visitors in the hotel lobby not more than one person per 10 square meters of serviceable area is allowed.
Persons can visit hotels and stay there (outside hotel room) only if they wear respirator or face mask (including homemade mask), so that the nose and mouth are covered.
Hotel guests are obliged to keep the 1.5 meters distance.
Online check-in making in advance is recommended to avoid queues at check-in to hotel.
Meals in hotels are provided through meals delivery service to rooms upon prior order or at hotel restaurants situated inside or in open areas, provided the distance of at least 1.5 meters between seats at adjacent tables.
Not more than 4 clients are allowed to stay at the table (excluding children under 14 years old). Unless these tables are separated by a special partition;
Self-serve is not allowed.