We invite you to the Magic Carpathians. We will walk along the paths of the legendary Oleksa Dovbush, visit the heart of the Hutsul region - Verkhovyna, visit the most expensive ski resort in our country and feel the real adrenaline in jeep rides! All this and more - in a three-day tour to the Carpathians;
Tour dates: November 4, 11, 18, 25
Tour program
Day 1
05:20 - Departure from Rivne (Pokrovskyi shopping center, stop at the Flowers store). The time and place of departure from other cities will be specified individually.
Stop for breakfast.
Time for lunch (outdoors, in pavilions).
13:00 - 14:30 - Excursion to the Dovbush rocks - "The Mysterious World of the Rock City" (up to 30 meters high). Chaotically arranged groups of stones where, according to legend, Oleksa Dovbush hid his gold and jewelry. Dovbush's trail may not tell you everything about the leader of the Carpathian opryshky, but it will give you an idea of where the rebels' hideout was probably in the middle of the eighteenth century. Besides, it's just a pleasure to wander around here: wooded slopes, immense boulders covered with bright green moss, fresh air saturated with the smell of pine needles, silence and incredible views.
15:00 Arrive at the place of accommodation and check into the hotel.
15:30 - 18:30 - JEEP RIDING: Excursion jeep tours in the Carpathians will certainly fill your vacation with drive. After driving jeeps in the mountains for several weeks, you will have a lot of impressions and emotions, as well as a lot of cool photos and videos.
Rest in a comfortable hotel, where in the evening we will be able to relax and recharge our batteries for the next day. Free time (grill, gazebo at your service). Dinner at the hotel (when booking a tour with meals).
Day 2;
08:30 - 09:00 - Wake up and have a good breakfast (if you book a catered tour) and go on excursions!
10:00 - 11:00 - Halynka Verkhovynka's Museum-Estate (Vyshyvanka Museum)
This is an extremely soulful museum founded by the poet Halyna Yatseniuk. During an interactive tour, she tells about Hutsul traditions, especially the wedding ceremony, the ornamentalism of Hutsul embroidery, and dresses tourists in Hutsul costumes. The guests are especially touched by the poems recited by the hostess with the wonderful creative pseudonym Halyna Verkhovynka.
11:10 - 12:10 - Visit to the Roman Kumlyk Museum, a private museum opened by Roman Kumlyk on January 7, 2000, and located in the family home. The owner collected materials for 30 years. These are household items, ancient Hutsul clothing, tools, banknotes of different times, and many interesting things about the life of the Hutsuls. The museum is especially proud of its collection of musical instruments. During the tour, we will plunge into the real atmosphere of the holiday!
12:20 - 13:30 - Visit the Corkscrew Museum. The Corkscrew Museum - Tasting Room is an ideal place to relax and enjoy the atmosphere of wine, as the museum has about 600 corkscrews of various types. Home-made young wine will be offered for tasting, as well as a story about the history and types of corkscrews. Corkscrews in the form of animals, birds, keys, weapons, glasses. Different sizes and colors.
13:30 - 14:30 - time for lunch
15:00 - 17:00 - To get to know the Hutsuls, their character, customs, and cuisine, we invite you to visit the Hutsul funfair. During the entertainment, you will be welcomed:
*Hutsul cuisine: porcini mushroom soup, banosh with cheese, tea made from fragrant Carpathian herbs, ...
* Singing and dancing by the Hutsul chapel "Drymba";
*master classes in Hutsul dances: hutsulka, resheto, golubka;
*Hutsul songs, kolomyikas, songs about the Carpathians;
*and dancing, dancing, dancing to the incendiary Hutsul music.
You will definitely like it!
18:30 - return to the hotel, dinner (when booking a tour with meals).
*For everyone, an additional attraction - cooking in vats over low heat - is the most popular activity among the tour participants. Cooking alternates with swimming in a cool mountain river that flows nearby. This contrast will help you keep your tone throughout the week and give you an unforgettable experience.
Day 3
08:30 - 08:30 - Again, we all wake up and have a good breakfast.
08:40 - Check-out from the hotel (with luggage).
09:00 - 12:00 - enjoy a vacation for the soul at Bukovel! A number of additional attractions await you on the vast territory of the Bukovel tourist complex:
SPA RELAXATION: VODA day & nightclub, located on the shores of the largest artificial lake in Europe. In winter, VODA club operates in a SPA format. It has a relaxing atmosphere, so it's a great place to unload your muscles. Warm up in the swimming pools and saunas:
- all-season warm pool: depth 1.5 m, temperature 32-34 ºC;
- 4 outdoor jacuzzis, temperature 32-36 ºC;
- Mediterranean sauna, 55-60 ºC, humidity - 55%;
- Finnish sauna, 80-110 °C, 10-15% humidity, made of Canadian cedar;
- Roman steam room, 35-40 °C, humidity 98-100%;
- salt cave, 22-24 ºC, humidity 50-60%.
VODA club professionals will help you get rid of accumulated toxins and salts. The masseurs have prepared 10 types of massage for you, including classic and stone massage, as well as peeling. You will be pleasantly surprised!
HUCUL LAND A new park has recently opened in Bukovel. The Hutsul Land ethnopark is a fascinating story about the life and way of life of the highlanders of the Ukrainian Carpathians: Hutsuls, Boikos, and Lemkos. It is an area that combines various recreation and entertainment venues on the territory of Bukovel, which is located behind the Lake of Youth. One of the main venues is a skansen. It differs from ordinary museums in that it has interactive activities with guests - you can go inside a hut that is about 200 years old, sit on a bench and watch the fire burn in the oven, try to grind wheat flour in millstones, weave a path on a real loom, watch cheese being made in a cheese factory, and even take part in a theatrical performance of a Hutsul wedding. There is also an area with a petting zoo, where domestic, exotic, wild animals and birds live in natural conditions, which will delight both children and adults.
RODELBAN "Speed fun"
This is a new all-weather toboggan run by the German company Wiegand, located for the first time in Ukraine. Twists, turns, and jumps give a special thrill. The attraction provides an opportunity to independently control the speed of the sled, which carries one or two passengers down the slope. The total length of the ride is 1500 meters. The length of the high-speed descent is 1000 meters. The sled has a braking system that guarantees compliance with a precisely set speed and distance, while ensuring maximum safety.
BIKE ZIP: is an opportunity to ride a bicycle on a cable car stretched across the Lake of Youth and enjoy the panoramic view of the Carpathians! The total length of one ride is 560 meters. Feel the taste of adventure and crazy drive with BIKE ZIP.
THE LONGEST ZIP LINE IN UKRAINE: Zip line is a high-speed descent on a roller along a steeply inclined cable. Flight on the Zip line "Bukovel" is a real aerial adventure! In 100 seconds you can fly from the top of Bukovel Mountain to the very center of the resort - to the roof of parking lot #2. The length of the zip line "Bukovel" is 1130 meters with a height difference of more than 190 meters! The attraction has 3 lines, is among the 10 longest in Europe and is the longest in Ukraine!
"Bukovelian Hills" is a completely new extreme entertainment for all lovers of vivid impressions. This is a zipline suspended on ropes between the trees, with ascents, descents and steep turns. The total length of the "Roller Coaster zipline" is more than 500 meters at a height of up to 15 meters. Visiting the "Bukovelian Hills", you will get a lot of cool and unforgettable emotions.
13:00 - 15:00 - have lunch and visit the Yaremche souvenir market, where you will have free time (you can buy interesting souvenirs, admire the beauty of the Probiy waterfall, visit the famous Hutsulshchyna restaurant). At the market, you can buy a carved mug, warm knitted woolen socks, a handmade clay set, a traditional embroidered shirt, or even a warm blanket - everything that the Carpathians are rich in. The waters of the Prut fall down from a height of 8 meters. Most of the Carpathian waterfalls can be seen only from river valleys, but Probiy can be seen from all possible angles.
15:30 - departure from Yaremche.
22:30 - return to Rivne (approximately). The time and place of return to other cities will be specified individually.
Departure from RIVNE, LUTSK, L'VIV (EXCEPT, we provide free transfer to board the tour from the cities: ZDOLBUNIV, DUBNO, OSTROH).
*The tour is conducted in Ukrainian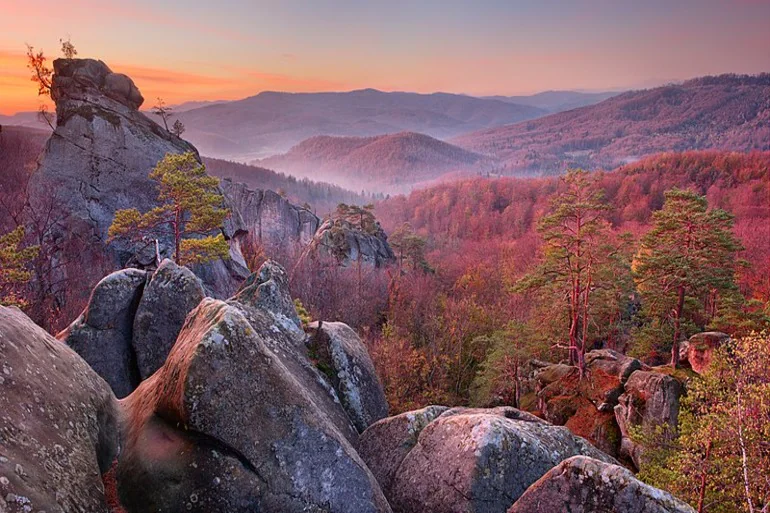 Additional fees: entrance tickets to excursion sites, namely: Dovbush Rocks - UAH 50, children - UAH 25. Ticket for the chairlift in Bukovel - 190 UAH, children under 12 - 130 UAH. Hutsul Land - 250 UAH for an adult, 200 UAH for children under 12, and free for children under 6. Jeep riding (2100 UAH per car; max. 6 people). Roman Kumlyk Museum - 50 UAH, children under 16 - 40 UAH. Museum of Embroidery - 40 UAH, children 30 UAH, ATO participants and children under 5 years old free. Corkscrew Museum (tasting + excursion) - 70 UAH, children under 15 - free. Hutsul fun - 270 - 350 UAH (depending on the group); Breakfast, dinner - 100-150 UAH (when booking a tour without meals); Professional guide services. Personal expenses (souvenirs, etc.). Entrance tickets for various entertainment in Bukovel, location and other details of these entertainments will always be with the group leader.
1
We will walk along the paths of the legendary Oleksa Dovbush
2
Visit the heart of the Hutsul region - Verkhovyna
3
Visit the most expensive ski resort in our country
4
Feel the real adrenaline of jeep riding
5
All this and even more - on a three-day tour to the Carpathians
2
Jeep tour in the Carpathians
3
Halinka Verhovinka Manor Museum
Transfer along the route
Professional guide
Travel insurance
Accommodation
Accommodation in the estate (hotel): 2-, 3-, 4-bed rooms
*From each purchased tour, we transfer 10% to the Ukrainian Refugee Support Fund. All profits from press tours are transferred to the reconstruction of Ukraine.
RULES FOR STAYING IN HOTELS
The simultaneous stay of visitors in the hotel lobby not more than one person per 10 square meters of serviceable area is allowed.
Persons can visit hotels and stay there (outside hotel room) only if they wear respirator or face mask (including homemade mask), so that the nose and mouth are covered.
Hotel guests are obliged to keep the 1.5 meters distance.
Online check-in making in advance is recommended to avoid queues at check-in to hotel.
Meals in hotels are provided through meals delivery service to rooms upon prior order or at hotel restaurants situated inside or in open areas, provided the distance of at least 1.5 meters between seats at adjacent tables.
Not more than 4 clients are allowed to stay at the table (excluding children under 14 years old). Unless these tables are separated by a special partition;
Self-serve is not allowed.