Yaremche + Bukovel in 1 day
Yaremche + Bukovel in 1 day
Yaremche and winter vacation in Bukovel: ice skating and skiing, Hutsul Land, and other entertainment.
Tour dates: February 18, 26, March 4, 12, 18, 26, April 1
Departure from Lviv (07:00) - Yaremche (Probiy waterfall, souvenir market and lunch) - Bukovel (free time, you can go up the cable car to Mount Bukovel, visit Hutsul Land, attractions - rodelban, zip line, skating, skiing, etc.
Tour program:
Departure from Lviv (07:00) - Yaremche (Probiy waterfall, souvenir market and lunch) - Bukovel (free time, you can go up the cable car to Mount Bukovel, visit HutsulLand, attractions - rodelban, zip line, skating, skiing, etc.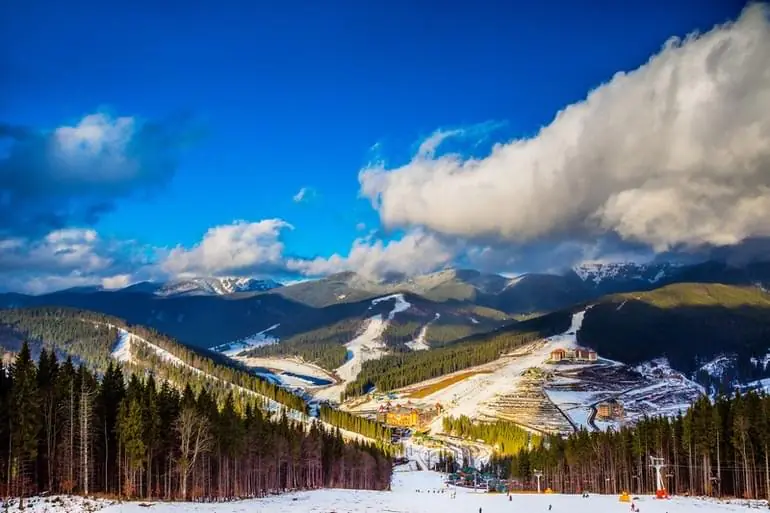 The price does not include and is paid additionally: entrance tickets to tourist attractions; meals.
Entrance tickets: - Bukovel. Skating: general, student - 230 UAH/person, children under 12 - 150 UAH/person, - Bale skating in Bukovel: 1 descent - 90 UAH. - Rodelban ride in Bukovel: general, student, pensioner - 600 UAH/person or 900 UAH/2 persons. - Cable car to Mount Bukovel (both ways): general - 200 UAH, pensioners and children under 12 - 150 UAH. - Hutsul Land Ethnopark: general admission: 250 UAH, children under 12, pensioners, ATO participants: 200 UAH, children under 6, IDPs: free.
3
Cable car to Bukovel mountain
Ski resort No. 1 in Ukraine, where you can climb a chairlift to the top of Mount Bukovel (1115 m), which offers a wonderful panorama of Gorgan and the Black Mountain range.
Hutsul Land ethno-park takes us into a fascinating story about the life and daily life of the Ukrainian Carpathian highlanders - Hutsuls, Boyks and Lemks. This is an area that combines various recreation and entertainment sites on the territory of Bukovel, immediately behind the lake "Molodosti". One of the main sites is the open-air ethnographic complex. On the territory of the open-air museum, there are unique sights of folk wooden architecture of the 19th - early XX century, which were disassembled and transported from the most remote mountainous corners of the Ukrainian Carpathians. Centuries-old wooden houses scrupulously recreated together with interiors, household items and works of folk art create a unique atmosphere of that time, convey the spirit and preserved mountain traditions. The main goal of the ethno-park is to preserve these fading traditions and folk culture of the Ukrainian Carpathians, to acquaint guests with the unique heritage of our region.
The all-weather toboggan run of the German company Wiegand is located on the territory of Ukraine for the first time. Bends, turns and jumps give a special sharpness of sensations. The attraction provides an opportunity to independently control the speed of the sled, which carries one or two passengers down the slope. The total length of the attraction track is 1500 meters. The length of the rapid descent is 1000 meters. The sleds have a braking system that guarantees compliance with the precisely set speed and distance, while ensuring the maximum possible safety.
4
Yaremche Probij waterfall
A famous climatic resort located between picturesque mountains in the picturesque valley of the Prut River. Thousands of people admire the cascading waterfall "Probiy" (Yaremchanskyi Huk) and the wooden restaurant "Hutsulshchyna" every year.
Transfer along the route
Professional guide
Travel insurance
*From each purchased tour, we transfer 10% to the Ukrainian Refugee Support Fund. All profits from press tours are transferred to the reconstruction of Ukraine.
RULES FOR STAYING IN HOTELS
The simultaneous stay of visitors in the hotel lobby not more than one person per 10 square meters of serviceable area is allowed.
Persons can visit hotels and stay there (outside hotel room) only if they wear respirator or face mask (including homemade mask), so that the nose and mouth are covered.
Hotel guests are obliged to keep the 1.5 meters distance.
Online check-in making in advance is recommended to avoid queues at check-in to hotel.
Meals in hotels are provided through meals delivery service to rooms upon prior order or at hotel restaurants situated inside or in open areas, provided the distance of at least 1.5 meters between seats at adjacent tables.
Not more than 4 clients are allowed to stay at the table (excluding children under 14 years old). Unless these tables are separated by a special partition;
Self-serve is not allowed.