Mezhyhirya Private Tour to Ex-President's Residence
Tour to the residence of a former president Viktor Yanukovych that was built for more then $ 1 billion taken from the state budget - symbol of corruption and unique object that is open for visiting.
Extra:

• entrance fee to Honka
• entrance fee to museum of retro cars
• entrance fee to bath complex
• entrance fee to dogs training center
• observing territory by golf car

*The originality of the text is completely preserved by the author of the tour (tour operator)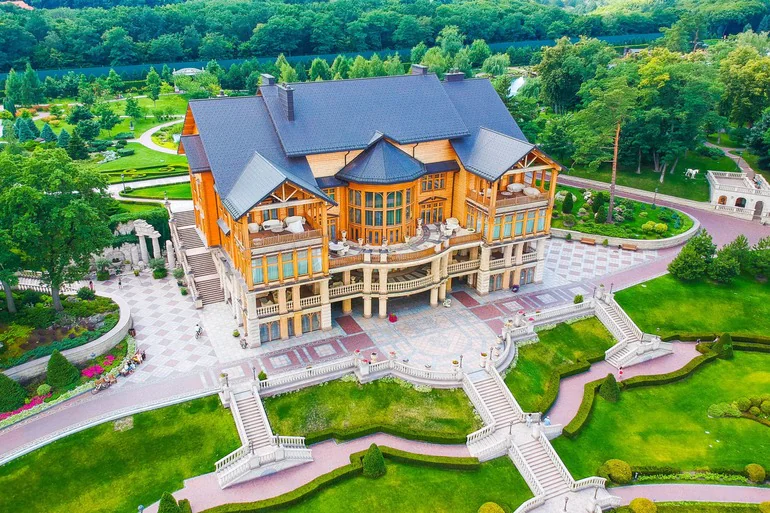 5 reasons to choose this tour
1
Uniqueness
Opportunity to visit the residence inside which is not available without a guide
2
Versatility
You can choose the way of exploring the area that is most suitable for you - by bicycle or electric car
3
Flexibility
As this tour is private, we can start the tour at the time and place that is comfortable for you
4
Transportation
We provide pickup and drop-off to the hotel by comfortable car
5
Support
Our guide will answer all your questions regarding your trip and will provide recommendations even after the tour
wooden palace of ex-president
Training centre for elite dogs
luxury restaurant on the water
Lakes with different kinds of fishes
Entrance tickets to the Mezhyhirya Residence
Transport by air-conditioned car, Hotel pickup and drop-off
Professional guide
*From each purchased tour, we transfer 10% to the Ukrainian Refugee Support Fund. All profits from press tours are transferred to the reconstruction of Ukraine.
RULES FOR STAYING IN HOTELS
The simultaneous stay of visitors in the hotel lobby not more than one person per 10 square meters of serviceable area is allowed.
Persons can visit hotels and stay there (outside hotel room) only if they wear respirator or face mask (including homemade mask), so that the nose and mouth are covered.
Hotel guests are obliged to keep the 1.5 meters distance.
Online check-in making in advance is recommended to avoid queues at check-in to hotel.
Meals in hotels are provided through meals delivery service to rooms upon prior order or at hotel restaurants situated inside or in open areas, provided the distance of at least 1.5 meters between seats at adjacent tables.
Not more than 4 clients are allowed to stay at the table (excluding children under 14 years old). Unless these tables are separated by a special partition;
Self-serve is not allowed.