New Year on a farmstead near Dykanka
You can start the year with amazing adventures, meet Gogol's characters and have fun at Poltava parties on a real farm near Dikanka! Among all the New Year's tours in Ukraine, this tour is the most authentic, revealing the full flavor of Gogol's Poltava region.
Tour start date - December 31
Tour program:
Day 1
9.30 - departure from Dnipro from the railway station by bus.
Arrival in Poltava, accommodation at the hotel "Tourist". Lunch. Excursion around New Year's Poltava: visit the estate-museum of the famous writer Ivan Kotlyarevsky, which was recreated from a drawing by Taras Shevchenko, made from life in 1845. The writer spent most of his life here, and it was in Poltava that most of his works were created, including the famous Aeneid.
The route goes on to pass the famous monument to Poltava dumpling, which was mentioned by Mykola Hohol and Ivan Kotliarevskyi in their works, the snow-white Holy Dormition Cathedral with a bell tower, a restored wooden watchtower, and one of the city's main landmarks, a white gazebo on the edge of Ivanova Hill. It offers stunning views of the city and the Holy Cross Monastery.
The final part of the tour will be a walk near the central Christmas tree. This year, guests and residents of Poltava will have a special surprise: a sparkling tent will be spread over the festive tree, and beautiful illumination will shine around it. After taking a few colorful photos and making a wish, you can visit a Poltava candy shop and buy souvenir sweets for friends and family. After the walk, you will have free time at the hotel to have a good rest and prepare for the New Year's Eve celebration.
21.30 - boarding the bus, departure to the village near Dykanka
New Year's Eve on a real farm near Dykanka!
(22.00 - 3.00)
The guests will be warmly welcomed by Mr. Holovan and his Solokha, seated at a festive table and fed with the same dikanka dumplings that just jump into your mouth.
The show program includes fun contests and games, New Year's songs and dances, a bonfire... A charismatic toastmaster will create a festive mood. This evening, Santa Claus and Snow Maiden will come to visit the village, and besides the main heroes of the holiday, the blacksmith Vakula, Cossack Pron and other characters from Nikolai Gogol's famous works will visit the village. This authentic holiday will definitely be remembered for a long time!
Day 2
The next morning, the tour participants will have a brunch, after which the holiday will continue. A warm bus will take you to the center of Ukrainian pottery - the village of Opishnia. The National Museum of Ukrainian Pottery will tell a lot of humorous stories from local pottery masters and offer everyone to make a clay jug with their own hands. At the end of the tour, everyone will receive a New Year's gift.
But that's not all! Ahead of that, there will be a Poltava New Year's Eve party in a Cossack estate, a colorful Ukrainian village also not far from Dykanka. Here you will be greeted with bread and salt and spun around in fun games and activities. After an interesting walk around the farm, guests will be served a hearty lunch with bread, bacon, dumplings, dumplings, soup and pancakes.
We take the bus and return home. The bus will arrive in Poltava at 17.30-18.00, where nonresident tourists can transfer to their train or bus, and then go to Dnipro.
21.30 - approximate arrival in Dnipro.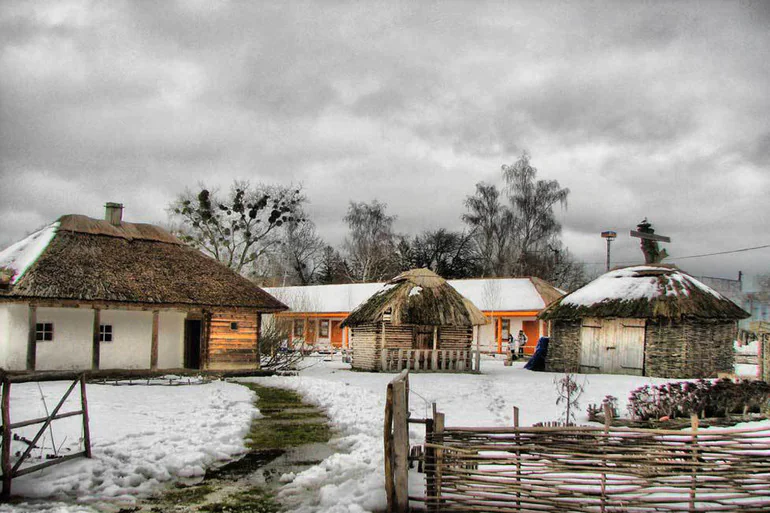 The price includes: accommodation, transport and excursion service according to the program, meals according to the program, entrance tickets to the Kotlyarevsky manor-museum and the national museum-reserve of pottery, a New Year's banquet on a farm near Dykanka, New Year's parties in a Cossack manor, a master class, insurance. Surcharge for single accommodation — 450 hryvnias.
The price does not include: personal expenses.
1
You can start the year with amazing adventures
3
Have fun at Poltava evening parties at a real farm near Dykanka
5
New Year's parties in Poltava are waiting ahead in the Cossack estate - a colorful Ukrainian farm
1
The manor-museum of the outstanding writer Ivan Kotlyarevskyi
2
The famous monument to the Poltava galushka
3
Holy Assumption Cathedral with a bell tower
4
The National Museum-Reserve of Ukrainian Pottery
Transfer along the route
Professional guide
Travel insurance
Accommodation
Surcharge for single accommodation — 450 UAH
Entrance tickets
Entrance tickets to the Kotlyarevsky manor-museum and the national museum-reserve of pottery
A New Year's banquet
A New Year's banquet on a farm near Dykanka, New Year's parties in a Cossack manor
Meals
Meals according to the program
*From each purchased tour, we transfer 10% to the Ukrainian Refugee Support Fund. All profits from press tours are transferred to the reconstruction of Ukraine.
RULES FOR STAYING IN HOTELS
The simultaneous stay of visitors in the hotel lobby not more than one person per 10 square meters of serviceable area is allowed.
Persons can visit hotels and stay there (outside hotel room) only if they wear respirator or face mask (including homemade mask), so that the nose and mouth are covered.
Hotel guests are obliged to keep the 1.5 meters distance.
Online check-in making in advance is recommended to avoid queues at check-in to hotel.
Meals in hotels are provided through meals delivery service to rooms upon prior order or at hotel restaurants situated inside or in open areas, provided the distance of at least 1.5 meters between seats at adjacent tables.
Not more than 4 clients are allowed to stay at the table (excluding children under 14 years old). Unless these tables are separated by a special partition;
Self-serve is not allowed.