NEW YEAR'S MELODIES OF TRANSCARPATTIA
We are waiting for you:
- incredible New Year's fun; - acquaintance with the history, customs and culture of Transcarpathia; - the best dishes of Transcarpathian cuisine; - the most outstanding historical sights of the region: The historic center and castle of Uzhhorod, Schönborn Palace, Mukachevo Castle, magnificent wooden churches; snow-capped peaks and panoramas of the Carpathians, the Shipot waterfall, swimming in the thermal pool; tasting the best vintage wines of Transcarpathia in ancient wine cellars and private owners of Berehovo district; and, of course, fun, snowballs, entertainment and other types of winter euphoria.
Tour date: December 30, 2023
Tour program:
1 day
Departure from Lviv (09:00) / from Stryi (10:00) - Pylypets (viewing the Shipit waterfall, lunch, ascent to Mount Hymba by cable car) - Iza (buying wicker products) - Berehove district (accommodation in rural tourism homesteads; dinner).
Day 2
Breakfast and departure (08:00) - Uzhhorod (city and castle tour, lunch) - Berehove (swimming in the thermal pool or a walk around the city) - Berehove volcanic lowlands (wine tasting) - Berehove district (New Year's Eve).
Day 3
Late breakfast and departure (11:00) - Mukachevo (castle tour and lunch) - Stryi (return at 20:30) / Lviv (return at 21:30).
NEW YEAR'S FUN!!!WARNING! The format of the celebration is subject to change, this applies only to music and dancing, information will be known 1-2 weeks before departure.

The New Year's celebration consists of three parts.
1. Festive dinner with Hungarian hosts. Menu: - cold appetizers, rolls, chops, cutlets; - potato salad (similar to olivier), vinaigrette, pickled cucumbers, peppers, etc.Hungarian broth (with csiga - homemade vermicelli);
- disco-perkelt (pork stewed with red pepper) with two homemade traditional side dishes (nokedli and torgonya);
- sweets;
- wine, palinka, mineral water.
2. Musical and entertainment performance:
Begins at 22:30-23:00 in the folk house, where a buffet with sweets, palinka, wine, mineral water is served. At 24:00, the Ukrainian New Year's Eve is celebrated; at 01:00, the Transcarpathian New Year's Eve is celebrated.
The folklore ensemble "Chetfalvosh" and the pop ensemble "Tysa" entertain guests with a New Year's program, folk songs, dances, and entertainment. Everyone will learn how to dance chardash. Happy breakfast:
In the New Year, your first breakfast will consist of special happy dishes that are prepared only for the New Year, and those who try them will be healthy and happy in the New Year. Menu: korgellevsh (homemade sausage, sauerkraut with meat, topped with sour cream and red pepper), gurka and homemade sausage, cholomad (special New Year's vegetable salad).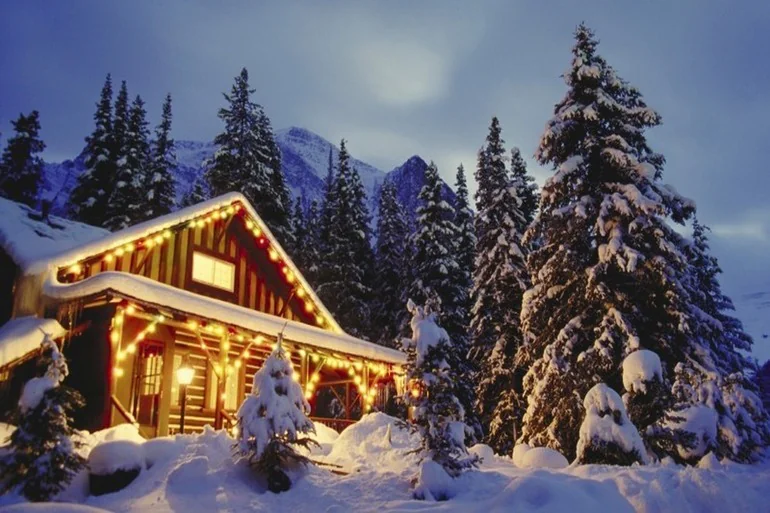 The price is NOT included and is paid additionally: entrance tickets to tourist sites, lunches.
Entrance fees: - Shypit waterfall: general, pensioner, student - 20 UAH, student - 10 UAH - ascent by cable car to the Mount Hymba (both ways): general - 200 UAH; children under 14 and ATO participants - 140 UAH. - visit to the iconic restaurant "Detsa u Notarya" - 5 UAH, children under 120 cm - free of charge; - Mukachevo Castle: general - 100 UAH, pensioners, students - 70 UAH, children under 14 - 50 UAH; - new thermal pool "Zhayvoronok" in Beregovo (2 hours): adults, pensioners, students - 230 UAH, children from 120 to 150 cm. - 115 UAH, children under 120 cm - free of charge, locker rental - 30 UAH; - wine tasting - 80 UAH, excursion without wine consumption - 40 UAH; - Uzhhorod Castle: general admission - 100 UAH, pensioner - 75 UAH, student - 70 UAH, student - 40 UAH.
Meals: Lunch on the 1st day is in Pylypets. The approximate cost is 150 UAH. Lunch on the 2nd day is in Uzhhorod. Approximate cost: 150 UAH. Lunch on the 3rd day is in Mukachevo. The approximate cost is 150 UAH.
5 reasons to choose a tour
1
Pylypets - view of Shipit waterfall
2
Ascent by chairlift to Mount Hymba
3
Uzhgorod - tour of the city and castle
5
Beregovo - swimming in the thermal pool
Here, from a height of 15 meters, one of the most beautiful waterfalls of Ukraine - Shipit waterfall - pours water into a picturesque mountain valley in many mesmerizing cascades between rocks. It originates from a large underground spring, i.e. the "eye of the sea", in one of the most beautiful places of the Ukrainian Carpathians - Borzhava valley. Staying here is a wonderful break from civilization and gives new vitality.
The capital of wickerwork in Ukraine, passing through the village you can buy a variety of souvenirs made of vines, from simple utilitarian items to real works of art.
The first mention of this eternal border town on the Uzh River dates back to 872, it will charm even the most demanding tourist with its charm and color. Take a walk along the historic street of the city - Korzo, be sure to visit the most famous church of the city, the Cathedral of the Ascension of the Holy Cross (1841), the Roman Catholic Church of St. George (1775), see one of the oldest castles in Ukraine (14th century), the Transcarpathian Museum of Folk Architecture and Life (skansen) and be sure to visit the cult inn "Children of the Notary".
The capital of Hungarian Ukraine - "Beregsas" is famous for its pools with unique thermal water, which rises from a depth of 1600 m and cures 86 diseases, its analogues are found only in New Zealand. The town also has several pearls of architecture: the Gothic Church of All Saints (1370), the Church of the Reformers (15th century), the "Grafsky Dvor" - the estate of Prince Bethleni (1629), the majestic building of the Imperial Court (1908) and the Golden Peacock casino".
Here on a lonely volcanic mountain is the most powerful fortress in Ukraine - Palanok Castle (XIV century), which was built by Prince Fedir Koryatovych, and the heroic glory of Princess Ilona Zrini. If you have free time in Mukachevo, you can also explore a lot of interesting things: the chapel of St. Martyna (XIV century), Rakotsi Palace (1663) and the beautiful green town hall (1903).
Transfer along the route
Professional guide
Travel insurance
Breakfast
Breakfast on the 2nd day, breakfast and lunch on the 3rd day
Dinner
Dinner on the 1st day
New Year's entertainment
Program, food, drinks, including alcoholic beverages
Accomodation
Cozy homesteads of green tourism of the Berehiv district, rooms: 2-3-bed with benefits on the corridor
*From each purchased tour, we transfer 10% to the Ukrainian Refugee Support Fund. All profits from press tours are transferred to the reconstruction of Ukraine.
RULES FOR STAYING IN HOTELS
The simultaneous stay of visitors in the hotel lobby not more than one person per 10 square meters of serviceable area is allowed.
Persons can visit hotels and stay there (outside hotel room) only if they wear respirator or face mask (including homemade mask), so that the nose and mouth are covered.
Hotel guests are obliged to keep the 1.5 meters distance.
Online check-in making in advance is recommended to avoid queues at check-in to hotel.
Meals in hotels are provided through meals delivery service to rooms upon prior order or at hotel restaurants situated inside or in open areas, provided the distance of at least 1.5 meters between seats at adjacent tables.
Not more than 4 clients are allowed to stay at the table (excluding children under 14 years old). Unless these tables are separated by a special partition;
Self-serve is not allowed.