TOUR TO THE CARPATHIANS FOR 2 DAYS (BUKOVEL, YAREMCHE, MANYAVA)
TOUR TO THE CARPATHIANS FOR 2 DAYS (BUKOVEL, YAREMCHE, MANYAVA)

Breathe in the Carpathians to your heart's content: look at the scenery, both from the tops of the mountains: Hymba, Vysoky Verkh, and from the windows of the Carpathian tram. Listen to the waterfalls and visit Lake Synevyr. Get to know the local inhabitants - brown bears and wolves.
Dates: 29.04, 20.05, 10.06, 01.07, 22.07, 19.08, 16.09, 21.10, 21.10, 02.12
The price of a tour INCLUDES:
- travel along the route by Euro-class bus;
- residence;
- accompanied by a tour guide.
The price of a tour DOES NOT INCLUDE:
- food;
- personal expenses;
- entrance tickets;
The cost of entrance tickets:
Dovbush trail in Yaremche: public/children - 50/25 UAH.
Tasting of Carpathian liqueurs - UAH 100.
Lift in Bukovel: general/children - UAH 150/100.
Hutsul Land Ethnopark: adults/children up to 12 years old and beneficiaries/children up to 6 years old. - 190/130/free.
Access to Manyava Waterfall by additional transport: for a group of 30 or more people - 80 UAH, for a group of 20 to 29 people - 100 UAH, for a group of less than 15 people - 130 UAH
Surcharge for single accommodation: UAH 200.
Meals at the hotel:
Dinner: broth, rice with vegetables, chicken leg, vegetable salad, bread, boiled egg - UAH 160;
Breakfast: buckwheat with sausage, sliced vegetables, bread, butter, tea - UAH 120.
What to take with you:
- comfortable hiking shoes that do not get wet
- preferably a windproof jacket with a hood
- the sweater is warm
- hat
- raincoat
- swimming suit
- water shoes
Order branded Visit Ukraine merch for stylish travels in Ukraine (worldwide delivery)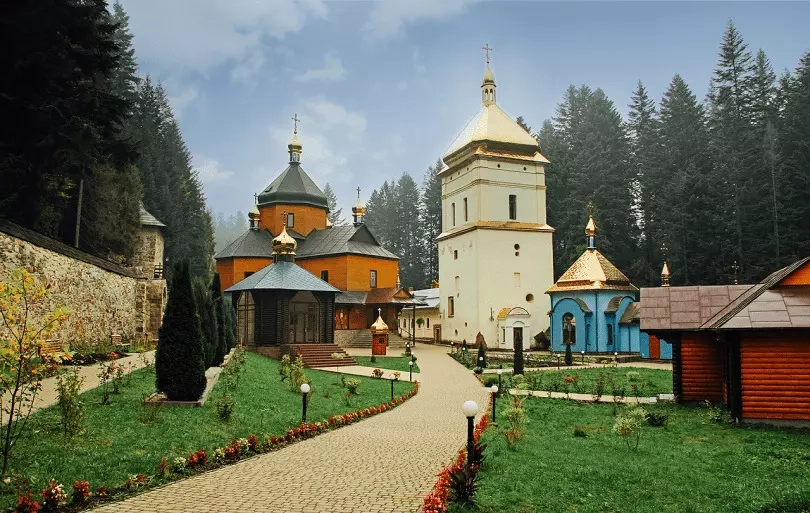 Day 1
8:30 Departure from Lviv: (1 Dvirtseva Square, Railway Station) ZIL trip to Manyava Waterfall Manyava Hermitage Pniv Castle Tasting of Carpathian liqueurs 19:30 (approximately) Check-in to the hotel Dinner (upon prior order)
Day 2
Breakfast (upon prior order) Check out from the hotel Bukovel (lift) Hutsul Land Time for lunch Dovbush trail in Yaremche Probij waterfall Souvenir market Lviv (return to the railway station 23:00)
1
All amenities
They will transport you, settle you down, and tell you a thousand more interesting stories along the way.
2
Impression
The tour is quite voluminous, you will see a huge number of natural, historical, resort curiosities.
3
Full support
If something doesn't work out, there's a force majeure, payment doesn't go through or you can't plan your time - our managers will help you solve all problems.
4
Vacation
The trip is aimed not only at getting cool impressions, but also at spiritual and physical rest... Relax and have fun
5
Cool team
Our guides always know what you need, work professionally and have a lot of experience. P.S. They also tell very interesting stories.
Transfer along the route
Residence
Professional guide
*From each purchased tour, we transfer 10% to the Ukrainian Refugee Support Fund. All profits from press tours are transferred to the reconstruction of Ukraine.
RULES FOR STAYING IN HOTELS
The simultaneous stay of visitors in the hotel lobby not more than one person per 10 square meters of serviceable area is allowed.
Persons can visit hotels and stay there (outside hotel room) only if they wear respirator or face mask (including homemade mask), so that the nose and mouth are covered.
Hotel guests are obliged to keep the 1.5 meters distance.
Online check-in making in advance is recommended to avoid queues at check-in to hotel.
Meals in hotels are provided through meals delivery service to rooms upon prior order or at hotel restaurants situated inside or in open areas, provided the distance of at least 1.5 meters between seats at adjacent tables.
Not more than 4 clients are allowed to stay at the table (excluding children under 14 years old). Unless these tables are separated by a special partition;
Self-serve is not allowed.