By visiting this tour, you can learn more about your favourite intoxicating drink and taste several types of live Lviv beer.
The first mention of Lviv beer dates back to the 14th century.
In medieval Lviv there were an incredible number of small breweries, now this tradition is gradually being revived in the form of beer restaurants and mini-breweries.
During the beer tour, you will learn: what establishments in Lviv are called "kneips", who are the Lviv "batyars" and how they called beer, what is this type of beer like "gzhanets", what is the difference between "lager" and "ale", what such craft beer and much more.
During the tour, you will get acquainted with four operating mini-breweries (Pravda Beer Theatre, Royal Brewery, Kumpel, Stargorod) and several well-known beer establishments (including Mons Pius, Chauvin).
Between visits to beer restaurants and tastings, we have a great opportunity to walk near the statues of bronze men with beer, meet a centaur who is engaged in anti-advertising of an intoxicating drink, see a brewing privilege issued by the burgomaster himself.
We offer the following beer tastings (at the choice of tourists):
— tasting beer type "Lager" (0.5 l) in the beer restaurant Stargorod (UAH 49);
— tasting beer type "El" (0.33 l) at the Pravda Beer Theater (UAH 56);
— tasting three sorts of Lager type beer (3x0.1 l) in the beer restaurant Kumpel (UAH 46);
– tasting three types of beer of the "El" type (3x0.1 l) in the beer restaurant Kumpel (UAH 46);
— tasting Smoked beer (0.33 l) at the Royal Brewery (UAH 55);
— tasting light or dark beer (0.4 l) in the Mons Pius restaurant (UAH 48);
— tasting craft beer (0.33 l) in the Choven pub (UAH 45).
Cost of a private tour: 2500 UAH – 1-10 people.
To order a tour in English, select the option Excursion in English when ordering.

** The cost of the tour includes guide accompaniment, a tour from the brewer in Stargorod (provided that the local brewer is not busy with his direct duties or other important matters) and one beer tasting at the Stargorod brewery (subject to ordering any beer snacks).

Start of the private tour: any time.
*The originality of the text is completely preserved by the author of the tour (tour operator)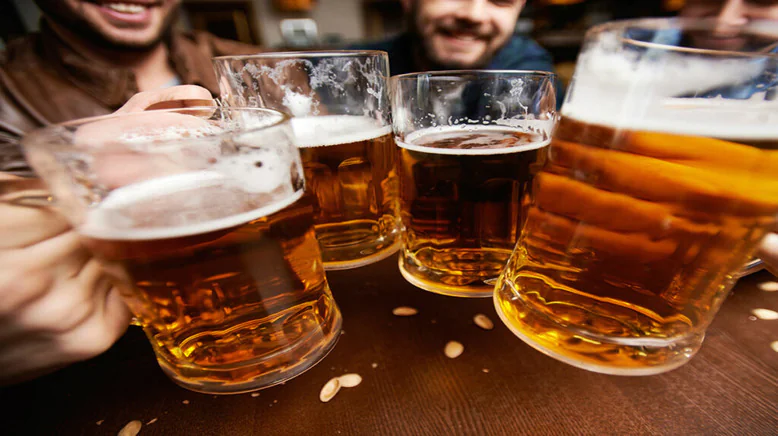 1
Walk around the best beer establishments in Lviv
2
Taste beer in 6 beer establishments
4
Hear interesting and positive stories
This is a space where we invite the world's best breweries to brew beer with us, adopting their technologies and skills. We are starting to create a Lviv type of beer.
A beer restaurant that treats its visitors to five varieties of live beer, brewed according to German technologies in its own mini-brewery. The specialty of the establishment is the fact that the beer is brewed in front of the guests.
Kumpel is the result of a desire to brew atypical special beer with a bright recognizable taste, experiment with beer styles, ingredients and deviate from the standard.
A unique Czech brewery with a restaurant in the city of Lviv. Only we brew real Czech beer using classic technology on the best European equipment.
The "Choven" beer pub offers its visitors sixteen varieties of Ukrainian craft beer on tap.
A restaurant with a rustic vintage feel serving steaks, salads, creative burgers and beer.
Professional guide
*From each purchased tour, we transfer 10% to the Ukrainian Refugee Support Fund. All profits from press tours are transferred to the reconstruction of Ukraine.
RULES FOR STAYING IN HOTELS
The simultaneous stay of visitors in the hotel lobby not more than one person per 10 square meters of serviceable area is allowed.
Persons can visit hotels and stay there (outside hotel room) only if they wear respirator or face mask (including homemade mask), so that the nose and mouth are covered.
Hotel guests are obliged to keep the 1.5 meters distance.
Online check-in making in advance is recommended to avoid queues at check-in to hotel.
Meals in hotels are provided through meals delivery service to rooms upon prior order or at hotel restaurants situated inside or in open areas, provided the distance of at least 1.5 meters between seats at adjacent tables.
Not more than 4 clients are allowed to stay at the table (excluding children under 14 years old). Unless these tables are separated by a special partition;
Self-serve is not allowed.