Individual gastro tour of Odesa
There are few cities in the world that have cuisines named after them. There is no Parisian or Berlin cuisine, but there is Odessa Cuisine!
This is a bright, juicy, contrasting, tasty and amazing phenomenon, through which you can only understand why the city and its people are like that.
Odessa has always been contrasting and you need to figure out what those who built the city ate: what and at what bazaars they bought food; what they cooked for dinner at home and what the raids in gluttons snacked on. Odessa's cuisine has absorbed the aromas and tastes of Greek, Moldavian, Ukrainian, Polish, Jewish, German, Italian ... That's how many peoples inhabited this port, southern city, so many hundreds of recipes were molded into a kitchen book called Odessa.
On this tour, all this can be not only heard, but also tasted. No, well, not everything (you will burst!), but a lot and tastier than anything.
To begin with, we will try local gastronomy with a tasting of local wine and cheeses, then we will go to the very heart of Odessa and try the food of those whose mind and ideas the city was formed (oyster or scallops, mussels with a glass of sparkling wine).
And in the third restaurant, we will figure out what Odessa food is today, how the names were born, what the specialists of this city are, what traditions we preserve and how one phrase can be used to identify you as a guest of a native Odessa citizen or just a resident of this city (tsa-tsa, forshmak, caviar from little blue ones, a tyulichka, something from Odessa canned food, tinctures and liqueurs).
A personal tour requires 2 people.

The price is for 2 persons.
The tour is conducted in English and Ukrainian.
Order branded Visit Ukraine merch for stylish travels in Ukraine (worldwide delivery)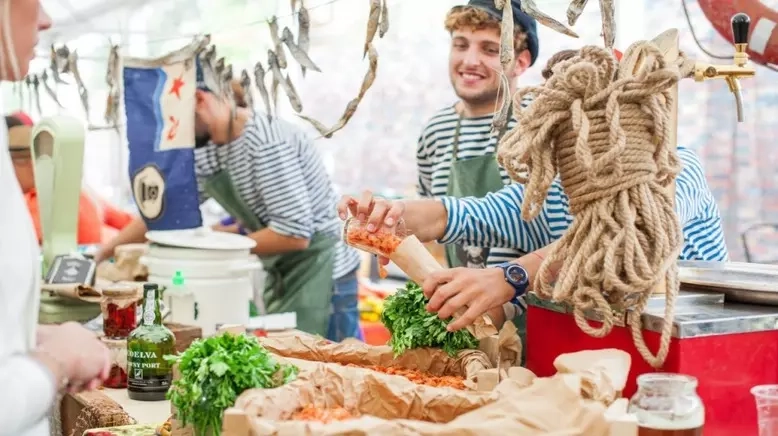 1
Get enough of the color of Odessa
3
Have fun and positive time
4
Hear interesting stories
5
Fall in love with Odessa
A bright, juicy, contrasting, tasty and amazing phenomenon, through which you can only understand why the city and its people are like that.
It is impossible not to fall in love with Odessa. Its architecture, food, and special spirit are striking. And most importantly, the whole city is saturated with subtle and amazing humor.
Professional guide
Professional guide
Tastings
Tastings of «Odesa cuisine» and wine, tinctures
*From each purchased tour, we transfer 10% to the Ukrainian Refugee Support Fund. All profits from press tours are transferred to the reconstruction of Ukraine.
RULES FOR STAYING IN HOTELS
The simultaneous stay of visitors in the hotel lobby not more than one person per 10 square meters of serviceable area is allowed.
Persons can visit hotels and stay there (outside hotel room) only if they wear respirator or face mask (including homemade mask), so that the nose and mouth are covered.
Hotel guests are obliged to keep the 1.5 meters distance.
Online check-in making in advance is recommended to avoid queues at check-in to hotel.
Meals in hotels are provided through meals delivery service to rooms upon prior order or at hotel restaurants situated inside or in open areas, provided the distance of at least 1.5 meters between seats at adjacent tables.
Not more than 4 clients are allowed to stay at the table (excluding children under 14 years old). Unless these tables are separated by a special partition;
Self-serve is not allowed.