Evening Lviv. Individual tour
Lviv in the evening looks special - illuminated streets, illuminated buildings and temples. It makes you want to hear exciting love stories here. While walking around the city at this evening time, you can discover something completely different, new and mysterious.
This evening tour will have a bit of everything: a bit of history, a bit of mysticism, to some extent architecture and, of course, a few Lviv love stories.
During this leisurely excursion, the guide will certainly tell fascinating legends and pay attention to secret signs and inscriptions on Lviv houses. The tour plan also includes visiting several Lviv restaurants with a special atmosphere.
By choosing this tour, you have a great opportunity to hear about the adventure of the Austrian emperor Joseph II on Rynok Square. Also, you will find out why the tower of the old Town Hall collapsed, what exactly the extravagant writer Leopold von Sacher-Masoch wrote in his works, how they used to advertise their business and many other interesting stories.
Or maybe we will even be able to see how the legend comes to life in the form of a dragon that perched on one of the old Lviv houses...
Tour starts at 19.30.
To order a tour in English, select the option Excursion in English when ordering.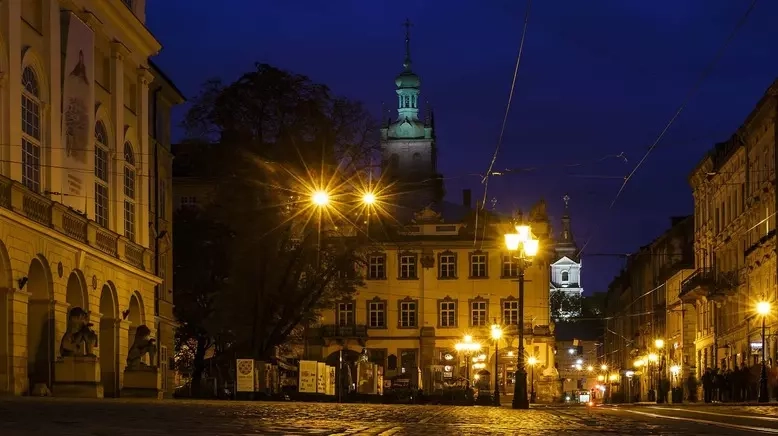 1
Walk the evening streets of Lviv
2
Hear stories and legends
3
Breathe in the history of Lviv
4
Learn the secrets that evening Lviv keeps
5
Interesting and positive time
Professional guide
*From each purchased tour, we transfer 10% to the Ukrainian Refugee Support Fund. All profits from press tours are transferred to the reconstruction of Ukraine.
RULES FOR STAYING IN HOTELS
The simultaneous stay of visitors in the hotel lobby not more than one person per 10 square meters of serviceable area is allowed.
Persons can visit hotels and stay there (outside hotel room) only if they wear respirator or face mask (including homemade mask), so that the nose and mouth are covered.
Hotel guests are obliged to keep the 1.5 meters distance.
Online check-in making in advance is recommended to avoid queues at check-in to hotel.
Meals in hotels are provided through meals delivery service to rooms upon prior order or at hotel restaurants situated inside or in open areas, provided the distance of at least 1.5 meters between seats at adjacent tables.
Not more than 4 clients are allowed to stay at the table (excluding children under 14 years old). Unless these tables are separated by a special partition;
Self-serve is not allowed.