Deep dive into Odesa's catacombs. Individual tour
This excursion can be justly called immersion into mystery. You may wonder what is there so special that you have not seen yet? There's only one reply! Everything!
- The underground bunker of the Cold War era with a 4th degree of protection and 1200 person capacity.
- The cemetery of petrified animals with the average age of 3.5 million years.
- The underground lakes with new species of small creatures unknown to modern biology.
- The chance to try on working in quarries with the 19th century tools.
- The real secret hideouts of Moldavanka's raiders.
- The permanent dislocation post of the most secret partisan detachment of Odessa, which perished exactly in this area of the catacombs.
- Believe it or not, but we didn't list everything.
WARNING! The air temperature in the Odessa catacombs is + 13C at any time of the year, so please get dressed accordingly. Comfortable sport shoes and clothes are strongly advised.
The tour is conducted in English and Ukrainian.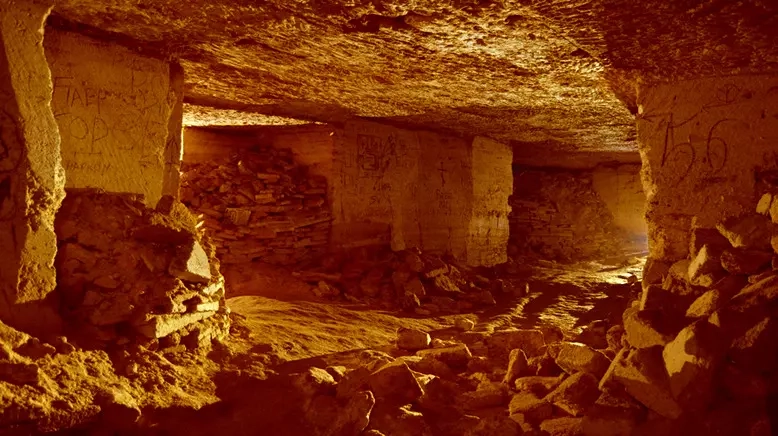 1
Walk the Odessa catacombs
2
Hear interesting stories
3
Stay in a bandit hideout
5
Have a fun and positive time
The Odessa catacombs are one of the most interesting sights in the southern part of Ukraine. Their length is approximately 2.5-3 thousand km. And how many secrets they have been hiding for centuries of their existence!
Guide
Equipment rent
Flashlight and helmet
*From each purchased tour, we transfer 10% to the Ukrainian Refugee Support Fund. All profits from press tours are transferred to the reconstruction of Ukraine.
RULES FOR STAYING IN HOTELS
The simultaneous stay of visitors in the hotel lobby not more than one person per 10 square meters of serviceable area is allowed.
Persons can visit hotels and stay there (outside hotel room) only if they wear respirator or face mask (including homemade mask), so that the nose and mouth are covered.
Hotel guests are obliged to keep the 1.5 meters distance.
Online check-in making in advance is recommended to avoid queues at check-in to hotel.
Meals in hotels are provided through meals delivery service to rooms upon prior order or at hotel restaurants situated inside or in open areas, provided the distance of at least 1.5 meters between seats at adjacent tables.
Not more than 4 clients are allowed to stay at the table (excluding children under 14 years old). Unless these tables are separated by a special partition;
Self-serve is not allowed.