ECO-EXCURSION IN TRANSCARPATIA: INDIVIDUAL TOUR
ECO-EXCURSION TO THE CARPATHIAN RIVER: INDIVIDUAL TOUR

An eco-tour of Transcarpathia is a unique and unforgettable journey where you can see the traces of the Templar Order and hear the secret of the destroyed castle; visit the 460-year-old "home" of wine and taste its best samples; get acquainted with monastic life and taste natural Italian cheeses in a monastic monastery; get acquainted with the gypsy settlements in the mountains of Transcarpathia and its unusual inhabitants.
An eco-tour of unusual places in Zakarpattia takes about 7 hours. Bus trips last an average of 20 minutes. 4 locations are visited: 460-year-old wine cellars - Templar Castle - monastery cheese factory - gypsy settlement. Some of them are located in the foothills of the Carpathians, others in the Middle Danube Lowlands.
Tour dates: daily
Duration of the tour - 1 day
The course program:
- Departure from Uzhhorod.
- Exploring the ruins of one of the most mysterious castles in Ukraine (XI-XVI centuries) - the Templar Castle. Secrets of the fortress and its former inhabitants.
- Visiting legendary historical wine cellars. The most interesting tour and tasting of vintage wines. Serednyansky wine cellars are one of the oldest in Europe, their total length is more than 4.5 km. They were carved in 1557 by captured Turks in solid rock - tuff. Today, the cellars are fully owned by the Serednyansky winery, which in its time has repeatedly won prizes at international competitions. The most famous vintage wines of the plant are "Rose of Zakarpattia", "Pearl of the Carpathians", "Serednyanske", "Radiant", etc.
Today, you can tour the historic cellars themselves and taste some of the products in them.
- A visit to the Holy Protection Monastery, acquaintance with the monastery, Christian shrines, the monastery's economy and cheeses produced here using Italian technologies.
- Lunch.
- Visit to a Gypsy settlement. Familiarization with its life and traditions, economy, priorities and philosophy of the settlers.
- Return to Uzhhorod.
*The tour is conducted in Ukrainian, Russian or English to choose from.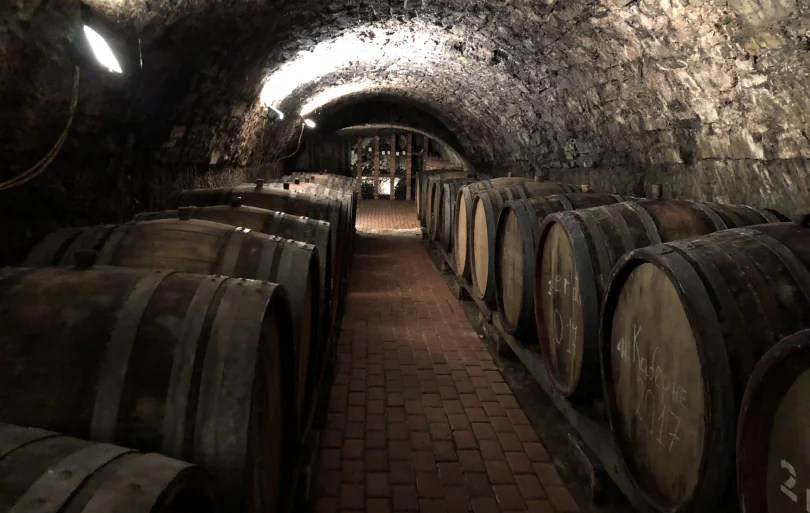 The tour price includes: Travel by comfortable car Accompaniment of a guide-explorer Excursion service at tourist sites
The tour price is not included and is paid additionally: Wine tasting in ancient cellars - 120 UAH/person. Lunch - approx. 100-120 UAH/person Personal expenses.
1
Comfort
You can count on our team to take care of you. Driving in a comfortable car, interesting and convenient excursions, full support and care for our tourists.
2
Transcarpathia
This region is like from another planet, warm climate, mountains, valleys, valleys, thermal resorts, incredible landscapes, interesting people and unique culture. A lifetime is not enough to get to know all of Transcarpathia!
3
Guides
Our professionals have been doing their favorite business for many years. And as we know, those professionals who really love their work do their work best. P.S. They also tell very interesting stories...
4
Sanitation
Everyone knows that Transcarpathia is not only about castles, mountains, and the beauty of nature. Here, even in one day, you can improve your health for a month ahead. Clean air, mild climate, spring waters, thermal pools and healing mud - all that is needed for recovery.
5
Everything is individual
The tour is individual. This means that our team will create all the conditions for rest just for you or your family.
2
Wine cellars of the 16th century.
3
The medieval castle of the Templars
4
Gypsy settlement in the mountains
Transfer along the route
Professional guide
*From each purchased tour, we transfer 10% to the Ukrainian Refugee Support Fund. All profits from press tours are transferred to the reconstruction of Ukraine.
RULES FOR STAYING IN HOTELS
The simultaneous stay of visitors in the hotel lobby not more than one person per 10 square meters of serviceable area is allowed.
Persons can visit hotels and stay there (outside hotel room) only if they wear respirator or face mask (including homemade mask), so that the nose and mouth are covered.
Hotel guests are obliged to keep the 1.5 meters distance.
Online check-in making in advance is recommended to avoid queues at check-in to hotel.
Meals in hotels are provided through meals delivery service to rooms upon prior order or at hotel restaurants situated inside or in open areas, provided the distance of at least 1.5 meters between seats at adjacent tables.
Not more than 4 clients are allowed to stay at the table (excluding children under 14 years old). Unless these tables are separated by a special partition;
Self-serve is not allowed.